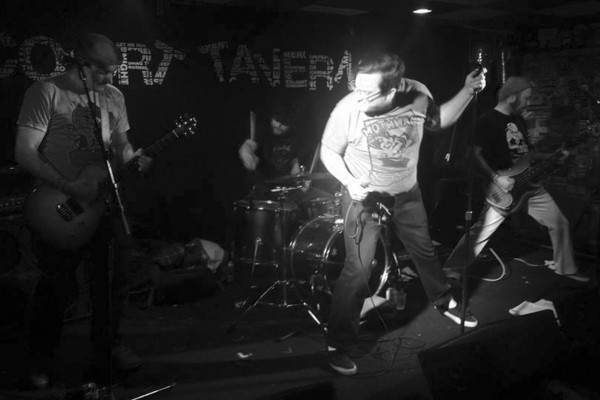 Punknews is excited to premiere Nervous Triggers' new lyric video for their song "Do The Drool." It is the title track of their upcoming EP, which will be available on their Bandcamp page on October 15, 2016. The cassette version will be out on Forced Abandonment Records and the CD will be out on Viking On Campus Records. In addition to some upcoming northeastern tour dates, the New Jersey band will be playing Fest 15. More information about Nervous Triggers can be found on their Facebook page.
You can read a blurb from the band, watch the video and see their upcoming tour dates below.
This song began life as a tongue-in-cheek reference to the classic early rock & roll songs where the lyrics told you how to do the titular dance. Patski came up with the phrase "Do the Drool," and the more we worked on he lyrics and music, the more we came to realize that the dance in question was more of a conceptual one. It's about shutting down your brain and laying down for fascism…which, to judge from the present presidential election, seems to be exactly what the American people want anyway. This is our attempt to cash in on the hot new trend of totalitarianism. It's subjugation pop music for terrifying times.
| Date | Venue | City |
| --- | --- | --- |
| Saturday, 10/15/2016 | Cake Shop | NYC with Chandeli'ers, Miranda Taylor, The Passengers, Top Bunk, and Spite House. |
| Saturday, 10/22/2016 | Millhill Basement | Trenton, NJ with The Decline, MakeWar, and the Barren Marys |
| Saturday, 10/29/2016 | Market Street Pub | Gainesville, FL, part of The Fest 15 |
| Friday, 11/04/2016 | Crazy & the Brains' Funhouse | Jersey CIty, NJ with Bad Cop/Bad Cop and Crazy & the Brains |
| Saturday, 11/26/2016 | Paul's Tavern | Belmar, NJ with the TV Tramps |
| Friday, 12/16/2016 | the Millhill Basement | Trenton, NJ with Night Birds, Conmen, and Posers |