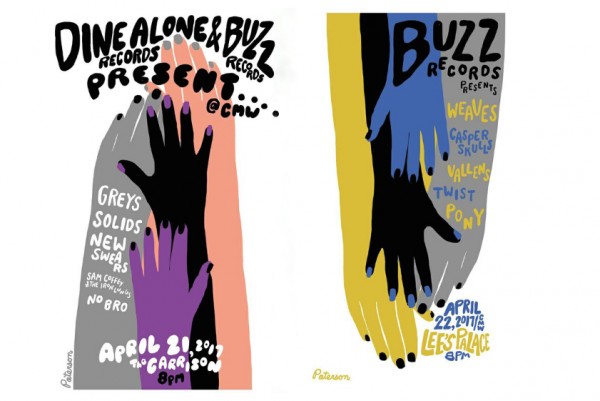 Dine Alone and Buzz Records, two of the most prominent independent record labels in Toronto have announced a merger. Buzz was founded by Ian Chai and grew out of the 2010s noise-punk scene that made its home at the Garage venue in Toronto's Chinatown. It's been behind a number of critically-acclaimed releases from acts like Greys, Odonis Odonis, Weaves, Dilly Dally, Twist, and HSY. Joel Carriere's Dine Alone Records emerged from St. Catharines, Ontario in 2005 alongside local acts Alexisonfire and City and Colour. It's grown into one of Canada's biggest rock indies, with releases over the years from Attack in Black, Bedouin Soundclash, The Dirty Nil, The Flatliners as well as becoming the Canadian home for a growing stable of US acts.
There's no word yet on what changes the merger will make to either label's upcoming slate of releases, but you can find statements from the principles of both labels below.
"This is a merger of two like-minded companies at different stages in their life cycles," says Dine Alone founder Joel Carriere. "Both Buzz and Dine Alone bring unique and exciting opportunities to the table, allowing each company to tap into that collective success and ever growing resources. It's a chance to assist each other as we grow our companies on a global scale, with the end result of creating more value for our artists."

"We were fans of Buzz bands before we got to know the people involved in the label," adds Dine Alone's VP Lisa Logutenkow. "Once we did, we quickly realized we were coming from the same place, and in the little time we have started working together, we've already seen our labels combine for 10 Juno nominations. It's a really encouraging start that I think validates our belief in what we can accomplish together."

These sentiments are shared by Buzz Records co-founder Ian Chai, who feels the partnership will allow the label to further its central goal of fostering successful and sustainable careers for its artists.

"Aside from a roster that we grew up admiring, it was the nuance of Dine Alone's ethos that convinced us we had similar origins and motivations," he says. "They're a family and one that's passionate about doing right by their artists; a mantra that mirrors our own. Being part of a collective that uncompromisingly blazed an independent trail from basements to stadiums can't help but inspire everyone at Buzz. We're excited about what the future holds for our family of sonic mutants."
A number of acts associated with Dine Alone & Buzz are set to perform as part of SWSW in Austin, TX and CMW in Toronto in the coming months.
Festival
Date
Venue
Line Up
SXSW
March 15, 2017
Bungalow
Dine Alone & Buzz Records Present
Jimmy Eat World
Trail of Dead
Tokyo Police Club
Weaves
Matthew Logan Vasquez
Mantra
Twist
CMW
April 21, 2017
The Garrison
Dine Alone & Buzz Records Present
Greys
Solids
New Swears
Sam Coffey
NOBRO
CMW
April 22, 2017
Lee's Palace
Buzz Records Presents
Weaves
Casper Skulls
Vallens
Twist
PONY