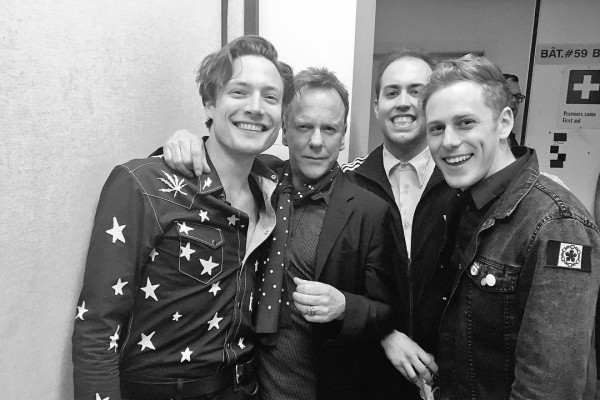 This past weekend Dundas, Ontario's The Dirty Nil (pictured here with Lost Boy Kiefer Sutherland) picked up a JUNO Award for "Breakthrough Group of the Year." The annual Canadian music awards were held in Ottawa, Ontario and saw the three piece punk act was up against Bleeker, Bob Moses, Cold Creek County, and The Zolas for the prize.
Also last week the band announced a line-up change, with bassist (and occasional vocalist) Dave Nardi leaving the group. They posted to Facebook: "As some of you may have noticed, Dave hasn't been with us for a little while. After being in a band together for 7 years, it was time for both of us to do something new. We're excited to have our old friend Ross Miller join The Nil. We have lots planned for the coming months so we're excited to see you all soon."
Ross is a familiar face in the Southern Ontario music scene. He's recently been playing as part of Single Mothers and is often seen as a touring member of the numerous post-Attack In Black projects. He's also been seen as one half of SIDEMAN with fellow Single Mothers member Justis Krar. Dave, for his part, has recently been playing shows with Dave O'Connor of TV Freaks' new act Sweet Dave & The Shallow Graves.