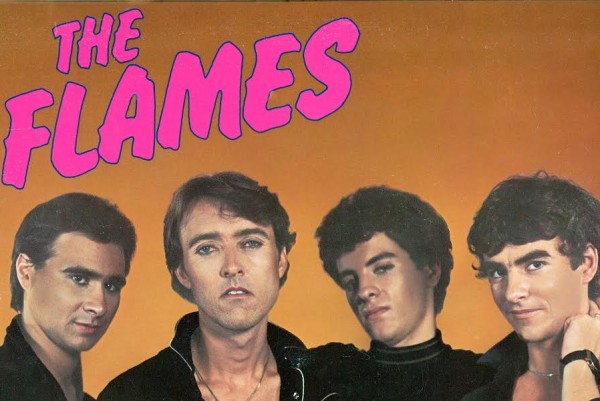 Today, Punknews is absolutely THRILLED to announce that we will be releasing, for the first time, the long lost album by The Flames!!!
If you are a long time reader of Punknews, you might know this story: Editor John Gentile found a mysterious record in the budget bin at his local record store. The band was the Flames and the album was recorded in 1980. It turned out that the record was a really good power pop/new wave/punk album. The record blended jumpy power-pop with the snappiness of early new wave with the edgy lyrics of first wave punk. Just look at some of these titles: "Stabbed to Death," "Contaminated," "Menage a Troi." … but there was no record of it at all online which is incredibly rare in this age of mass documentation!
However, on the back of the jacket was a thirty-five year old phone number written in magic marker. John called the number… and after a one-in-a-million shot, we're now releasing the album for the first time! (You can read the full story on the album's discovery and history right here.)
With the cooperation and direction of band founder Michael J. Richards, Punknews and Narmer Records are absolutely PSYCHED to be putting out this 37 year old album for the first time ever. The entire release was remastered by Bob Vielma of Shinobu and it includes 12 bonus tracks! The first two bonus tracks are cassette rehearsals recored in 1980. The other ten bonus tracks are solo recordings that Richards recorded for himself from 2009-2013. Every track on this CD is unreleased!
And today, we're debuting the first single from the remastered release! You can pre-order the remastered CD with bonus tracks right here!. You can also pre-order the digital version right here! Then, check out the first single to be released from the remastered album, "Nothing Seems to Work Out," below!
THE FLAMES TRACKLIST
-
ORIGINAL ALBUM
1. Do you Love It
2. Fine Line
3. Living in Bondage
4. Stabbed to Death
5. You Always Survive
6. Menage a Trois
7. Love Star
8. Punish Me
9. Somebody Call Me
10. Contaminated
11. Did I do Right
12. Nothing Seems to Work Out
BONUS TRACKS -
CASSETTE REHEARSAL
13. Quarantine
14. Let Me Tell You
MICHAEL J. RICHARDS SOLO RECORDINGS 2009-20013
15. Get Back
16. Nineteen Forever
17. Cheap Romance
18. Off the Clock
19. Platinum Record
20. Cold Wind
21. D.E.A.N.N.E.
22. I'm Not Drinking
23. Better Man
24. Love Is