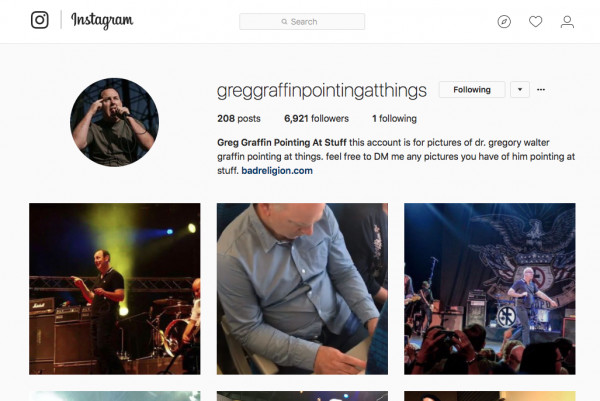 The internet is weird. On October 30, 2016 an anonymous person created an Instagram account dedicated to finding pictures on the internet of Bad Religion's Greg Graffin pointing at different objects. The account is appropriately named "Greg Graffin pointing At Things." Each picture's caption typically starts out with "Greg Graffin Pointing at…" You may remember that I used a screenshot of one of the account's posts for the thumbnail for an edition of Navel Gazing a while back.
The account is now closing in on seven thousand followers, but what is even more interesting is that person started a trend. Other accounts in the same vein, but dedicated to other punk rock icons have begun popping up in the punk-Instagram realm. Not too long after, accounts like "Jay Bentley Doing Weird Things" and "Brian Baker Wearing His [Own Band] Shirt" (which was apparently blocked by the actual Brian Baker) were made. Now the trend has broadened to accounts such as "Milo Aukerman Grabbing His Ass" and "Fat Mike Interrupting Bad Religion."
After a brief direct message conversation with the "Greg Graffin Pointing At Things" who claims to not run any of the other accounts (but doesn't consider them copycats either) and gave me a little bit of background on this trend, it is clear that this is yet another piece of evidence that even punk rock is not safe from internet meme culture. Links to some of the accounts are provided below.