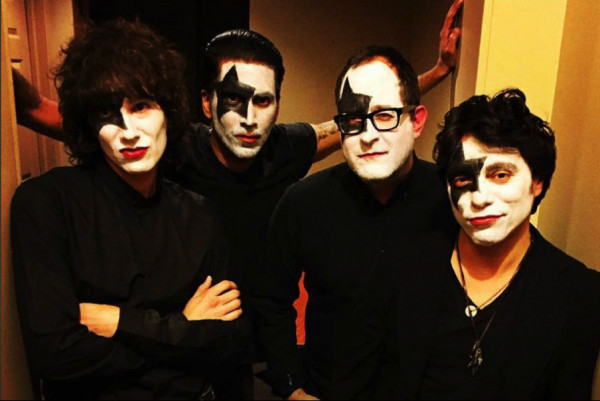 Craig Finn is in the midst of a North American tour with John K. Samson in support of his recent full length We All Want the Same Things . He and his band, the Uptown Controllers, will conclude their month-long trek this evening in New York at the City Winery. This being both Halloween and the big finale, Finn's got a plan to make the show special -- a plan that pretty heavily involves the Starchild. Toronto-based writer Graham Isador caught up with the Hold Steady frontman to get to the bottom of it.
We Should All Be Paul Stanley.
On Halloween night Craig Finn (The Hold Steady/Lifter Puller) will be dressing as Paul Stanley from KISS. His band the Uptown Controllers will also be dressing as Paul Stanley from KISS. That evening Finn's opener, Canadian poet and Weakerthans frontman John K. Samson, will be adorning the iconic star makeup of KISS's lead singer Paul Stanley. The Brooklyn crowd has too been encouraged put on their best Paul Stanley makeup. If patrons fail to put on Paul Stanley makeup at home, artists at the City Winery will be on hand to paints the faces of audience members who wish to portray KISS's lead singer, Paul Stanley. For that night the title of Finn's tour - We all want the same Things - will be changed to We Paul want the same Things… as a tribute to the bodacious swagger and throwback charm of KISS's lead singer. That evening no other KISS members will be represented in makeup. It is a strictly Paul Stanley affair.
This all begs the question: Why? Why are you doing this Craig Finn?
I found out about the Paul Stanley idea via Finn's twitter two hours before I was set to interview the singer/songwriter. Finn has been an artist I've wanted to talk to for years. Finn's romanticization of small-town anxiety, big city dreams, and the mythic qualities of punk rock - both in solo work and his work with bands - perfectly capture the nearsighted ambition and perpetual longing that comes with getting older in a certain scene. Those qualities have made him one of my favourite singer-songwriters. They've also convinced me that Finn might be one of those guys who has all the answers.
Over my years as a journalist, I've been fortunate to enough speak with many of my songwriting heroes, and while nowadays interviewing artists is a part of how I (barely) make rent, I've never quite kicked the overwhelming need for bands to like me. Every time I talk to an artist I still have this childlike fantasy that we'll immediately become best friends. Or in the case of Finn he'll become some kind of surrogate mentor/older brother figure who I can call on for life advice or help with difficult writing assignments. This unprofessional enthusiasm is directly at odds with the other driving factor in my life: the desire to seem cool.
On the day of the interview I battled with these two conflicting ideologies and eventually made the decision that I was going to try and ingratiate myself to Finn by arriving to the interview in Paul Stanley makeup. This idea was less popular with my VICE editor Josh, who was joining me for the interview, on account of the fact that he too is a huge Finn fan. When Josh saw me he just kind of shook his head. Secretly I think he admired my commitment. You know, as a journalist.
Below you can read my conversation with Craig Finn. We talked about his decision to dress as Paul Stanley and young punk's obsession with seeming cool. A handful of tickets remain for the We Paul Want the same Things concert happening on Halloween night in New York.
Graham Isador: I currently have my face painted as Paul Stanley. On Halloween yourself, your band, and the crowd will also be painted like Paul Stanley. Which begs the question: Why? Why KISS?
Craig FInn: Paul Stanley has always been my favourite member of KISS. I've always liked KISS. They were probably the first band I ever got into. They were the first band who was ever marketed to someone my age. I got into them in like second or third grade. I liked Paul because he's the singer, really. It was that simple. As I got older I got into punk rock and KISS seemed a lot less cool. But I've always held a candle for them. They've always been something I can talk about because I just spent so much time with those records. They were important to me and when you hit something at that early an age it just kind of permeates. But for a long time I hid it.
My favourite band is The Replacements and when I heard they covered Black Diamond… I was like okay. Maybe it's alright to like KISS and punk rock.
So that's where it comes from? An earnest loved for Paul Stanley and KISS?
I mean, kind of. That's part of it. But two Halloweens ago we came up with the concept of all Paul. It was at a show in Pittsburgh. It was almost built out of necessity. We needed costumes we could put together quickly and I don't know. It's kind of clever.
I don't know if it's clever. It's unique at least?
It's sort of funny. This year when we were on tour with Japandriods I kind of went on a whole Paul Stanley kick. I had read his autobiography Face the Music and decided to get it on Audiobook for the van. It's really good. The reason it's such a good book…Paul was born with a deformed ear and always kind of struggled with it. He sort of got into Rock and Roll because Rock and Rollers had long hair. And if he had long hair he could cover his ear. And it was from that weird insecurity that the ball got rolling and eventually lead to the massive success he had with KISS. Which is kind of beautiful. Like, insecurity as the kick off for that kind of mass appeal.
I can get that. I always think of KISS as clothing brand like The Misfits.
The cool thing about Paul Stanley though is that he never fell into that Rock and Roll cliche excess. He never got strung out. He never got a behind the music. At some point, Stanley actually got to play the part of the Phantom in Phantom of the Opera. It actually happened here in Toronto. He was obviously really into the Mask and through that work he actually started doing stuff with charities. Kids with facial deformities. The dude is a really great storyteller and throughout the book all the other guys in KISS seem like such jerks. So all Paul. There is a positivity and an arc to it. To me Rock and Roll can have that positivity and that's…well I think that's why I like him.
Paul actually responded to you?
Yeah. He commented on Facebook and said: Yeah, baby! Which is cool. To have his attention.
You touched on this a bit earlier, but there are so many bands I loved as a young kid that I abandoned once I got into punk rock. For instance felt like I wasn't allowed to like Oasis and Leftover Crack at the same time. That's a similar experience to what you had with KISS. Why do you think punks can be so closed off to things that aren't punk?
I think when you're a kid who gets into punk you make that a big part of your identity. And you want to put that identity first. I think about all the times I went to shows as a kid - I started going to shows when I was thirteen - and until I was eighteen if I was forced to choose between buying a record for a band or a t-shirt? I was always choosing the t-shirt. Because how the hell were people at school going to know I went to the show if I bought the record. But you sort of let your guard down at a certain age and you just like what you like. You're allowed to kind of let more things in.
Only answering questions from Paul Stanleys from here on out. Thanks Graham! https://t.co/sKt2tSp2Ra

— Craig Finn (@steadycraig) October 26, 2017
Do you think anyone has ever sworn off your music for the same reason I might have disregarded KISS?
Oh, probably. There is this youth thing, too. The flip side of that is that there is only a certain amount of people who can be into a band if it's your first record. You just haven't been around in the same way. But you get into your fifth and sixth record? It's hard to be cool. It's hard to be super hip if you're on your sixth record. But I think you can be more of yourself.
And yourself is dressing as Paul Stanley. At least on Halloween.
This time we're all dressing as Paul Stanley on Halloween.
This Interview has been edited for length
Graham Isador is more of an Ace Freely guy. Follow him on twitter: @presgang