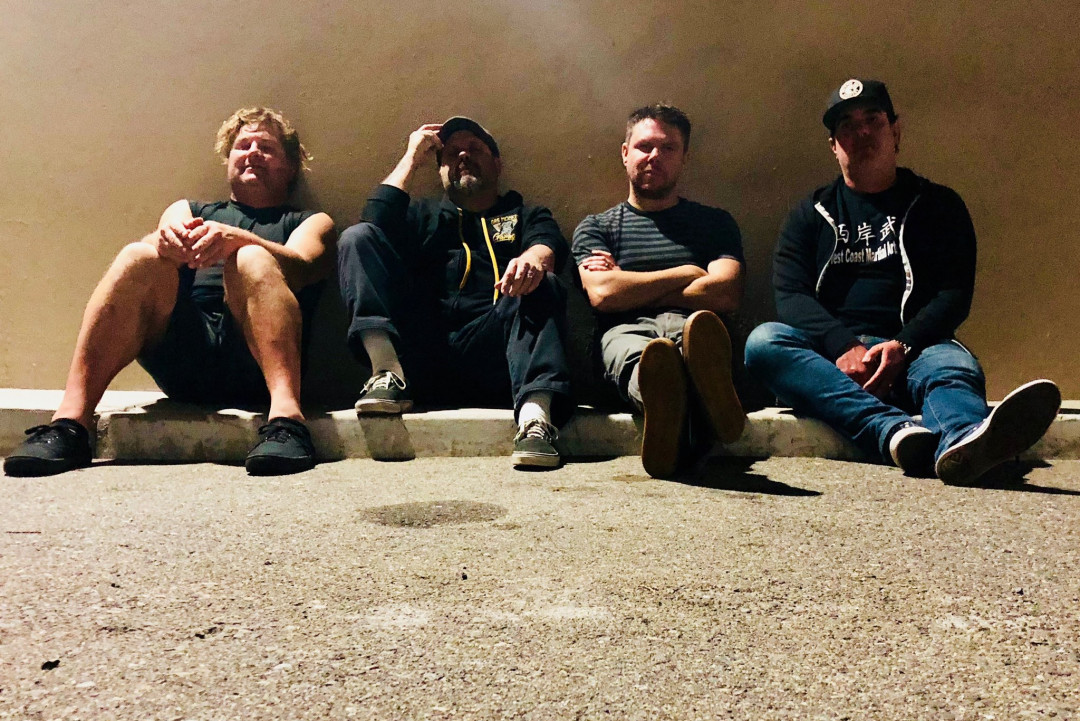 Sometimes the best types of bands can happen by accident, take Gods of Mount Olympus No stranger to the punk music scene, Brian Wahlstrom, while playing with Joey Cape and his Bad Loud project, decided to mess around with some Billy Joel songs during a sound check in 2012. Writing songs on piano that needed heavy drums and guitars to come to full realization, Brian needed to but a band together. Fast forward to a few years later, Brian and drummer Paul Rucker were able to recruit Steve Morris of Unwritten Law to play guitar, and by chance of luck, have bassist/fan of band Matt Riddle of No Use for A Name, to make the band a 4 piece. The piano-centric punk rock band just played their first show as a 4 piece last month, and recently released their debut EP on Bird Attack Records. Punknews writer Matt Dumont was able to catch up with Brian while gearing up for the release. You can check out his interview below.
Brian, first I would like to thank you for the time spent to answer some questions.
So for those that don't know, how did The Gods of Mount Olympus get together? Was it a fairly organic process of friends in music getting together?
Yeah, it was organic for sure; mostly in the sense that it was painfully gradual, like watching a tree grow. Paul Rucker and I originally met in 2012 through a mutual friend Joey Cape, on a tour for Joey's Bad Loud project. Paul on drums, me on keys, and we'd always fuck around with Billy Joel songs during sound checks. I'd been toying with the idea of starting a piano-centric band with punk beats, but it really clicked when Paul and I started playing together. A year or so later, I ran into an old friend and neighbor Steve Morris at the grocery store down the street. He'd left Unwritten Law, so I asked if he'd be interested in jamming with us. Eventually we played some shows in San Diego as a 3 piece and started recording an EP. Most recently, Matt Riddle joined on bass – I ran into him at a show last year and sent him the EP. Fortunately for us, he was into it and we were practicing as a four piece soon after.
How cool of a feeling is it when Matt Riddle, who has been in several important bands in the punk rock scene, wanted to jam with you, and now is an official member of the group?
Pretty unbelievable. I've been a fan of his bands for as long as I can remember. The night before our first rehearsal, I was genuinely nervous, and uncertain if he'd really be into it. I slept maybe an hour the entire night. When I pulled into the parking lot, he was sitting in his car, just staring out the window. The first thing he said to me was …"Dude, I didn't sleep last night". I was so fucking relieved. Despite the both of us slipping in and out of consciousness, the rehearsal went great.
That is definitely a good sign! You guys recently played in San Diego with Pulley, Skipjack, and Strike 12. What was the reaction like, and how have people been responding to the songs?
Yeah, it was a fun show. I usually notice a few people looking at me funny when I'm setting up a digital piano center stage at a punk show. But for the most part we get solid feedback, and it seems people understand what we're going for - I think the bass was the missing component for the live gigs. Can't wait for the next one.
Can we talk a little about the new record as far as where it was recorded and who produced?
Yeah, we tracked the drums at Big Fish Studios in Encinitas. We had to do it all in a single session, which was brutal. We did some editing on the fly, but for the most part, the drums are live takes. We did the rest remotely between Steve's office (after everyone left work), Studio West and my buddy Tim's house. Angus Cooke mixed at Orange Whip in Santa Barbara, and Chris Fogal mastered at Black n Bluhm in Denver. We produced the record ourselves, but got a ton of input from friends. Joey Cape and Angus Cooke had been familiar with the songs prior to recording so we were constantly sending rough mixes to get feedback.
That is a great group of people to have working with you for sure. Will there be a full tour once the EP is out?
That's the plan. We'll be doing a west coast tour with a few other Bird Attack bands in the near future, but dates aren't confirmed yet. Everyone is itching to hit the road soon.
I can imagine, being used to touring so long and excited for a new project, everyone wants to hit the ground running. Going through your line-up and band members' past experiences, one may expect a certain style upon first listen. The music has been described as "Billy Joel on speed" but I can definitely feel more a punk rock tune with piano type of vibe. Do you feel people will be more intrigued by that description?
I think that phrase came about after I got tired of trying to describe the band to non-punk fans. I'd reference a bunch of different influences they'd never heard of… Finally, I'd say, "Okay it's like Billy Joel, on speed", and they'd go "Oh! Rad, I get it!" Paul and I were huge fans of Billy Joel going into it, but there are certainly more influences involved.
That makes sense. You guys went with Bird Attack Records for the EP. For those unfamiliar, Bird Attack have recently put out albums by Guttermouth, 88 Fingers Louie and Authority Zero. What brought that relationship about? Was it knowing other bands on the label that have certainly been involved in the scene for a decade or 2?
I met Garrett Wadford at a show in San Diego, and again a few months later at Pouzza Fest. He's a great dude and we became friends. When I got home from Montreal, I emailed him the EP, which had just been mastered. He was the only person I sent it to and offered to put it out. We immediately agreed and that was that.
With everyone in the group having vast musical experiences, what are some of your non-musical influences for The Gods of Mount Olympus EP?
In terms of lyrics, each song on the EP is inspired by an important person in my life. Whether it's a positive or negative influence, I tend to write about things that are most familiar.
What can one expect at a live show?
On one hand, we take the music part seriously; but on the other, we all have day jobs and are just looking to have as much fun as possible.
Anything else you guys would like to add?
Thanks for checking out the record!
You bet, and thank you so much for taking time out to answer some questions for Punknews!