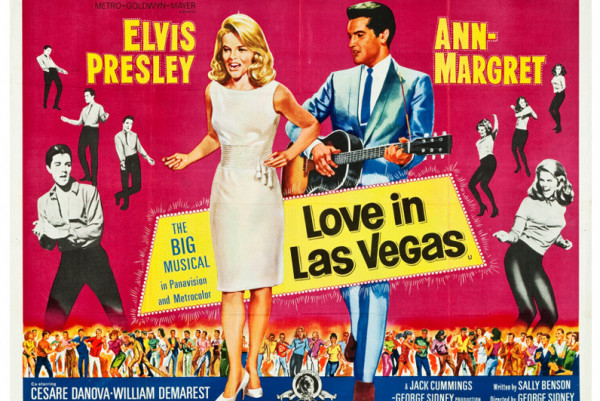 "Viva Las Vegas with your neon flashin', and your one armbandits crashin', all those hopes down the draaaaaaiin!" That's right, baby, Punk Rock Bowling (psst… we're sponsors!) is barreling down and hits us May 25 in Las Vegas! There's a ton of really cool bands playing- Nofx, Against Me!, Rise Against, The Dwarves, D.O.A., Agnostic Front, and many, many more! But, what are you going to do before the shows kick off? To that end, Punknews Editor Okra Windfree put together a list of cool things to do in Vegas before the sun sets. Check it out below!
Drink from a guitar
Public drinking is a reality in Las Vegas. You'll see bros in polos carting around 12 packs and drunk moms sloshing around fishbowls up and down the strip. But why stop there? In Vegas, it's not just about what you drink it's also how you drink it! While the novelty container is everywhere in Sin City, it's only fitting to sip from the Rockhouse's 88 ounce guitar! For only 35 dollars fill this dude with either beer or frozen daiquiri and refill it for $22.
Blow your cash at Cash4Chaos
No vacation is complete until I've seen the local punk wares. When you're tired of the strip, find Vegas's only punk store Cash4Chaos. They've got an enormous selection of shirts and unique accessories. On my last trip to Vegas, I bought way too many shirts from the discount bin and found a great Sid Vicious style lock necklace. Make sure to support the shop that keeps Vegas punk after the PRB crowd leaves!
Like, get in touch with nature, maaaan
If you get tired of the crowds, Las Vegas is just a bus ride away from a number of natural wonders. I may have been too drunk or hung over to check them out on my last excursion to the dessert, but places such as Red Rock Canton, Mount Charleston, and Hoover Dam are definitely on my to-do! All three are known for their natural beauty and Americana desert wonder. Take a hike, free climb, or simply gaze upon the beauty that is the great expanse of America.
Be a pinball wizard
Back in the city, there's still plenty of things to do! Whenever I travel, I keep a list of "weird and unusual" local attractions in my pocket for that just-in-case moment - and Vegas has a lot to offer! If you're looking to learn check out the Mob Museum, Madame Tussead's original location, or the Neon Museum. For fun, step into the Pinball Hall of Fame or the Zombie Apocalypse Store. The Hall of Fame has a wide variety and array of classic arcade games while the Apocalypse Store will help you stock up for the end times. Finally, while I'm not a #mermaid fan, I've always been intrigued by the Instagram videos that always show up in my feed of scantily clad women, with flowing hair, fish tails, often swimming in tanks. If you're interest is peaked too, look no further! Vegas has its very own Mermaid Restaurant and Lounge, featuring live mermaids to mesmerize as you sip on your cocktails.
Go to the circus
It's a hotel, it's a casino, it's the world's largest permanent big top! It's a time stamp to the old Vegas. After having grown up rewatching Fear and Loathing in Las Vegas one million times, I knew that I would want to someday be completely blacked out in a casino that had acrobatic acts and old school carnival games overloading my senses. This place is amazing. It's very kid friendly, very adult-that-never-grew-up friendly too.
Watch people in spandex jump through rings
While it's a crazy notion to go to a show that isn't a part of Punk Rock Bowling, you're in Vegas; it's the nations capital for entertainment! There is truly nothing like a Vegas show, either. In Sin City, one can find any show any night of the week for a good time. Tinsel Town has magic acts like David Copperfield, Criss Angel, Piff The Magic Dragon, or Penn and Teller to various acrobatic acts such as LOVE (Cirque de Soleil does The Beatles), ONE (Cirque de Soleil does Michael Jackson), and Absinthe.
Also, always check to see if a 60's-90's icon is headed to the strip during your stay! I missed Britney Spears during my last trip and my life has been a consistent disappointment ever since. Donnie and Marie, Celine Dion, Elton John, Jennifer Lopez, Air Supply, The Temptations, Boyz II Men, and (of course!) Cher will all be in town during Memorial Weekend.
Naughty, Naughty
On the darker side of entertainment, there are plenty of skin shows to attend. Take a walk through the worlds largest museum dedication to the sinful act at The Erotic Heritage Museum. Shows such as X: Burlesque and Zombie Burlesque show are mild, as they perform the art of, well, burlesque. However, Las Vegas is known for the glitz and glamour, and that includes its scantily clad side! If there's ever a time to check out a strip club, Tinsel Town would be the place! Check out high quality establishments; such as Crazy Horse III, the nightclub-but-strip-club vibe; Centerfolds, come in for Schoolgirl Sunday(!); Palomino Club - full nude, full bar; and the classic Showgirls movie set, Cheetahs. Vegas even has your Magic Mike experience; male strip clubs are alive and well on the strip as well! Stripper King, Aussie Heat, Hunk Mansion, and even Magic Mike Live is ready to tantalize.
Hang out with Chumlee
Lose too much money in the poker game? Feel free to pawn your guitar and check out The World Famous Gold and Silver, home of History Channels 'Pawn Stars.' Browse through history with a price tag and haggle with Rick, Chumlee, Corey, or The Old Man. While the store is only open 9am-9pm feel free to pawn off your most prized possession 24-7 at the convenient drive through window.