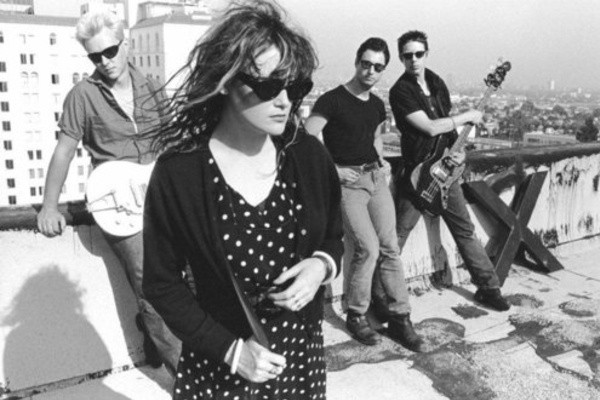 If you have done your punk rock history homework, then you know about X. The band was (and still is) a major force that pioneered the LA punk scene, starting in the late 1970's. The band's album Los Angeles still makes "top punk albums" lists consistently to this day. X recently celebrated their fortieth anniversary and will be playing the main stage at Punk Rock Bowling in Las Vegas this year (Pssst… we're sponsors!). Contributing editor Ricky Frankel caught up with the band's drummer, DJ Bonebrake, to talk about the early LA punk scene, the band's connection to the show Children's Hospital, his work with The Germs and Joe Strummer respectively and much more. Read or listen to their conversation below or on iTunes.
Photo Credit: Michael Hyatt
I'm here with DJ Bonebrake of the legendary Los Angeles punk band X. How are you? I do want to mention that it is refreshing to be interviewing someone with the same area code as me.
Oh really?
Yup!
I didn't notice area code. So you are out here in the West Coast?
I am. So this is extra special for me. I got some questions about some of X's songs. I got some questions about some other things that you've worked on because you're pretty accomplished.
Well over the years I've done a lot of stuff. From symphonic stuff to jazz vibes to big bands and salsa bands and polka bands and bluegrass bands. Basically I've done a lot of things since I started playing and sometimes I need a gig. So I'm just versatile. I can't say I'm the best at any of those things, but I do have fun. So the song "Johnny Hit And Run Paulene" has a bunch of different genres in it from the Chuck Berry riff to the gothy the choruses. Was that mixture of genres on purpose or did that happened naturally in the studio when you were writing it?
Well it was before the studio. Billy [Zoom] came up with the Chuck Berry lick. It is a combo of our influences from growing up. Someone pointed out that -- we were talking about the Ramones. I said, "You know that's definitely like the Ramones' songs. Ramones had an influence on us more than other bands did. I mean a lot of other bands did, but you could hear a little bit of that. It was just tipping our hat to Chuck Berry. I don't even know what other influences [are in there]. Sometimes you don't even know. People ask me, "What are your influences?" I go, "Uh, I don't know. It was in four-four. I decided to play on the four tom. Sometimes it's a specific thing you're copying. We can do that. But when you're copying something specific you get an idea or you just kind of go, "Let's see what options do I have? I can play at a high hat. I could play it closed or open. I could play on the snare drum. I could play in the for tom or the ride or just not play at all."
Another song I want to ask you about is "Fourth Of July," which has this sort of proto alt-country sound to it. I was wondering why the band chose to go in that direction for that song.
Well for one, it was Dave Alvin's song. Dave Alvin was playing in the band when Billy quit the band in 1985. Dave filled in for a little while. I don't know if you know that much about Dave Alvin and The Blasters. He's a really prolific songwriter and it's one of the songs he gave us. And also it was a really tough time. To be played on the radio was almost impossible. Also, John [Doe] and Exene [Cervenka] were into a little more country stuff and it was like, "Well, let's try this." It was organic. [We said], "We're into this. Let's try some different things." I don't know what it sounds like Creedence Clearwater Revival or something like that, which isn't a bad thing. So there was a period when if you had any punk sensibilities at all you were lucky to be played on commercial radio. There were exceptions, but most of the time you were played on college radio stations. That's what sustained that whole scene. It wouldn't have existed without that. And like I said, there were a few exceptions of bands that would get played or there'd be someone like Rodney Bingenheimer who was famous in LA for playing whatever he wanted on a commercial station like K-ROQ. Actually, that station would come and go, too. For a while they would play punk and then they would stop. So it was really a difficult time. People didn't really accept anything that was close to punk -- not totally, but until the early 90's when Nirvana and Green Day [came along]. A new generation had to come and go, "Oh! This isn't really subversive music that you can't play on the radio." The feeling people had about it -- most people -- were like, "What are these communists or something? We'll have to put them in jail!" I'm exaggerating a little bit, but there was that feeling like, "What the hell is this?" No one knew what it was for a long time. That's why it was underground for going into the late 70's and like almost all of the 80's. Like I said, there were exceptions and there was New Wave. Some of that was good and some it was terrible. Bands like The Go-Go's, who came out of the LA punk scene, were smart because they said, "Oh no, we have nothing to do with punk." I know they're were more pop, but they came out of that scene. They were totally in the same scene we were in. That was a marketing decision -- complete deniability. They totally denied it and that was a good thing for them.
I love asking the veterans these kinds of questions. I was wondering, back when the LA punk scene was sort of taking off in the underground, was there a show that X performed at or a show that you just went to where you look back now and realize, "Wow! that was pretty legendary."?
I don't know. In a way -- [it was] the first show that I played with X, because it which wasn't until 1978. I was in The Eyes before that and I really didn't know John [Doe] or Exene [Cervenka] I think I'd seen him around, but I didn't meet them until close to the end of 1977. The first show that we did was the was The Mask benefit. The Mask was a local club and they were closing down and they had the [benefit] at the Elk's Lodge. It was two days with almost every one of the local bands. In a way that was kind of legendary. I think Brendan Mullen put that out on different CD's. Everything else is like -- you can go, "Oh wasn't that a funny show that night that so-and-so fell off the stage." I don't think there was a "eureka moment." You just had personal reasons -- [for example] like, "Oh! That was a great night. It was the night I got laid! I got away from the cops!" But I would by that one because it in a way it was the moment when a lot of local bands played in a bigger place. We had a reason to do it, to save The Mask.
Well there was another one actually. There was one more that happened maybe a year later. It was at the Elk's Lodge, too but in a different part of it. It was near Downtown LA and that was the one where the cops came in. It was maybe five bands. X was headlining and The Gogo's and The Plugs and The Alley Cats -- and we were playing a bigger show (for us) and the cops came in and just tore it apart. They just came in swinging with their clubs because they didn't like us. To this day I don't know exactly [why that happened]. I've heard different reasons why they showed up. People say there were undercover cops that were on the dance floor. They're going, "What are these guys doing here? These guys don't belong here!" I think someone said, "Oh! We're in imminent danger!" because people were slam dancing. It was pre-planned because there were tons of cops coming in and pushing people out of the hall and there were troops of policemen (riot troops) waiting at attention. It wasn't like, "We got a disturbance call. Send a couple of policemen." It was like, "Oh! The punk rockers are playing and we have to bring 150 cops and a sniper and a helicopter and break this thing up."
What?!
I'm not kidding. In a way it was a defining moment because I remember at the beginning of the show going, "God, it's not that successful. It's not sold out." It was a little bigger hall than we were used to playing. I said, "Well, yes it's kind of boring. I don't know if it's going to be that good of a night and then suddenly the cops made it a really important night. It was like, "Okay, yeah I guess we are important. I guess we are somebody. The cops are afraid of us. They think we're going to take over the city." So that's my take on that. And we never did play. I [still] have the poster.
Wow! That is quite the story. How did the band end up on the show Children's Hospital?
Well, I don't know exactly. I think either the director or couple of the actors or one of the actors -- I can't remember exactly who thought it was a good idea, but they just wrote this story around the idea that one of the one of the surgeons plays in our band and we rehearse in his garage. I guess it was just an outrageous thing. Apparently, this character is always bragging that he plays with famous bands. He says, "I play second bass with X." (laughs) So it was it was really funny and silly. I don't know if you saw it, but it was one of those weird and great situations. Yeah I'd never seen it before that, but it's really an outrageous show. We kick him right out of the band and we kick them out of the band or I guess he quits, too because he realizes that we just wanted to use him for his rehearsal space.
Actually, the clip is on YouTube and I happened to stumble upon it. So you worked with Joe Strummer for the show South Park. What did you work on? What was it like working with him?
Well we didn't work that much. It was one song and it was for South Park. I can't think of the name the song, but they were doing it for the for the South Park show. We went and worked on the song and we go, "How do we want to do it?" They had Belmont Tench playing keyboards and Flea and a famous cast. I'm there thinking, "Okay, I better play this well." I remember Joe had some influence on it, but a lot of the time he was waiting to [do] his vocals. He was cool. He went back to the studio in Hollywood and he set up a card table outdoors because he didn't want to sit in the studio all day. Him his wife sat in the alleyway, just hanging out.
(Note: Upon further research, the name of the song is called "It's A Rockin' World" from "Chef Aid," Season 2, Episode 14 of South Park.)
I didn't talk to him that much, but he was really nice and just really personable. It was just a surreal experience because it went pretty quickly. It wasn't like we were hanging out all day and all night or for a week. It was just "go into the studio, set up the drums" and go, "Okay, what are we going to do? How does the song go?" It was really intense. I don't have any great stories about about Joe Strummer. I wish I did.
Well, it's still cool that you got to work with him at least for that one song and for South Park of all shows, too.
Yeah, it was really good. I wish I could remember the song . I don't have a copy of it and it may come to me eventually, but I hear they're going to release that on a record — kind of an oddities album — things that normally weren't released by him. I just got a note from either their record company or lawyers saying, "You're going to be on this record. We don't owe you anything, but heads up!" (laughs) That's all I know.
Can you tell me about your involvement with The Germs?
Well there wasn't much there. I recorded a couple of songs with them. I knew them from hanging around the scene. I'd seen them a few times. They were always looking for drummers and for a while Nickey Beat was playing drums with them. He was the drummer for The Weirdos. I remember one time Darby [Crash] said, "Hey! You want to play a live gig with me?" I said, "Okay! What is it?" We were at The Starwood, which was just in LA, down in Hollywood. He goes, "Yeah, we're going to rehearse tomorrow at noon. Do you want to come to Santa Monica with us tomorrow?" I think it was Santa Monica or Venice. It might have been Venice -- fifteen miles away, by the beach. He said, "Yeah, come by and we'll practice." So I say, "Okay." I didn't have a car at the time so I walked to the beach after the show, which took about three or four hours, slept on the beach, walked to the rehearsal place and then when I showed up they go, "Oh! We didn't think you'd make it. We hired someone else."
So that was one story and the other one was the Chris Ashford had a record company called What Records and he put out a record with my bands The Eyes. We were one of the three bands [signed to] it. He had this cheap, four track studio and The Germs were ready to do another single and Chris asked me, "Hey! Do want to you know come in and play drums?" So I went in with The Germs and we recorded two songs. We played "Round And Round." It was funny because I don't know if he thought it was a David Bowie song or not. We also recorded a second version of "Forming." Darby was funny. He knew me, but he would go, "Why do you play punk rock? You really know how to play drums. You should play in a band like Yes." I said, "Because I don't want to be in Yes." (laughs) I don't think I was that good to play in Yes. It was like a two or three hour session. So that was the other Germs [story]. And we used to play shows together. They used to open for us and they would always break things. One time they almost destroyed one place called Hope Street Hall. There was a secondary stage that pulled out. Of course during the show they pulled the whole thing. Then [Pat Smear] comes backstage and says, "Yeah we broke our guitar. Can we borrow Billy Zoom's guitar?" Like, I don't think so! He broke his in half.
That's insane! So Punknews.org is a sponsor of Punk Rock Bowling 2018, which X will be playing. Since that's happening, what is your favorite game to play when you're in Vegas? Are your slots man? Blackjack? Poker? What's your game?
You know, I don't gamble that much I have to say. I used to like the slot machines. This dates me, but it's not that old — I used to like the nickel machines. I liked it when you actually had coins because I'm a tactile person. I like to feel things. You put the coin, you win ten dollars and you feel like you're really rich, you know? And the only time I get that feeling now is when I get my change at Ralph's when it comes out of the change machine. I hear that and think, "Ah! I'm in Vegas!" I never really played the other games -- maybe like a blackjack machine. I don't think I've ever sat down at a table. Exene loves to gamble. She would go to those tables and hold court and stay there until she made some money. I don't know if she's done it recently, but she used to really like that. I rarely gamble, I only bowl about every five years, but I do play music a lot.
Well that's what counts. DJ, thank you so much for taking the time to talk. Do you have anything else that you'd like to add?
No, no! I've talked way too much and said too little. Yeah that's that's all.Thank you for putting up with me. I can't wait to play Punk Rock Bowling. I've only played it once. I play with The Devil's Brigade about four years ago. It was really fun, but I didn't get to see a lot because we got there late and we had to leave. I ended up just going to my hotel room and having a beer. I didn't bowl. I didn't really do anything that fun. I just did my job. (laughs) I think that's more of a common thing with musicians than you think. People think, "It must have been really fun [to perform]!" Everyone else is out there partying and you go, "Well no, I warmed up my instruments and I set up the drums and then I played. Then I was cold so I had to change my clothes and then the van was going back to the hotel. There wasn't much on TV so I read a book." That's my synopsis of the life of a musician. (laughs)
You can follow Ricky Frankel on Twitter @DesertBurst92
(Music from X is featured on this episode, audio production by Greg Simpson at Velour Underground Studios, Brian Pretus's DownWrite.com Profile)