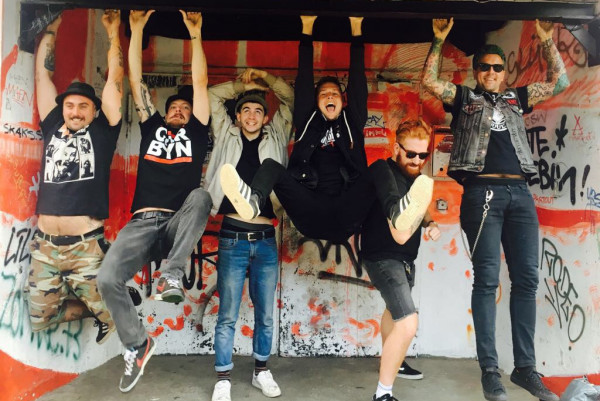 Punknews is very excited to premiere The Bar Stool Preachers' music video for their new song "8.6 Days (All The Broken Hearts)." It is the first single off their upcoming full-length Grazie Governo, which will be released in August via Pirates Press Records.
After this video, the band will release what we were told is a trilogy of music videos that the band has filmed. Pirates Press Records will also be releasing three corresponding picture flexis that will be distributed for free (starting May 18th) through record stores and mailorders all over the world and directly from the band. Each one will also include a B-side track.
Check the band out over on their Facebook page and watch the video and see the list of their upcoming European and US tour dates below.
| Date | City | Venue |
| --- | --- | --- |
| 5/2/2018 | London, UK | New Cross Inn |
| 5/3/2018 | Derby, UK | Hairy Dog |
| 5/4/2018 | Huddersfield, UK | The Parish |
| 5/5/2018 | Watford, UK | WPC Festival |
| 5/6/2018 | Newcastle, UK | Trillians |
| 5/10/2018 | Canterbury, UK | Lady Luck |
| 5/11/2018 | Norwich, UK | Waterfront |
| 5/12/2018 | Kingston, UK | Fighting Cocks |
| 5/13/2018 | Ilkeston, UK | The Latch Lifter |
| 5/17/2018 | Oakland, CA | The Ivy Room |
| 5/18/2018 | San Francisco, CA | Thee Parkside |
| 5/19/2018 | Sacramento, CA | Blue Lamp |
| 5/20/2018 | Pomona, CA | Characters |
| 5/24/2018 | Yuma, AZ | The Alement |
| 5/25/2018 | Las Vegas, NV | Punk Rock Bowling (Club Show) |
| 5/26/2018 | Las Vegas, NV | Punk Rock Bowling (Pool Party) |
| 5/30/2018 | Cologne, DE | Jungle Club |
| 5/31/2018 | Berlin, DE | Cortina Bob |
| 6/1/2018 | Ellerdorf, DE | Wilwarin |
| 6/7/2019 | Brighton,UK | The Pipeline |
| 6/7/2018 | Leeds, UK | Brudenell |
| 6/8/2018 | Manchester, UK | Star and Garter |
| 6/9/2018 | Dublin, IE | Voodoo |
| 6/10/2018 | Belfast, NI | TBA |
| 6/13/2018 | Brighton, UK | The Pipeline |
| 6/14/2018 | Stafford, UK | Redrum |
| 6/16/2018 | Glasgow, UK | Audio |
| 6/17/2018 | Oxfordshire, UK | Nomansland Festival. |
| 6/23/2018 | Rosslau, DE | This Is Ska Fest |
| 6/25/2018 | Beroun, CZ | Metro |
| 6/26/2018 | Vienna, AT | Chelsea |
| 6/27/2018 | Budweis, DE | Velbloud |
| 6/28/2018 | Dresden, DE | Chemiefabrik |
| 6/29/2018 | Erfurt, DE | Stadtgarten |
| 6/30/2018 | Lärz, DE | Fusion Festival |
| 7/6/2018 | Hünxe, DE | Ruhrpott Rodeo |
| 7/7/2018 | Hünxe, DE | Ruhrpott Rodeo |
| 7/20/2018 | Tolpuddle, UK | Tolpuddle Festival |
| 7/28/2018 | Tufnell Park Dome, UK | Wonkfest |
| 8/3/2018 | Blackpool, UK | Rebellion Festival |
| 8/5/2018 | Somerset, UK | Outcider Festival |
| 8/9/2018 | Winchester, UK | Boomtown Fair |
| 9/13/2018 | Hamburg, DE | Hafenklang |
| 9/14/2018 | Prague, CZ | 007 |
| 9/15/2018 | Munich, DE | Backstage |