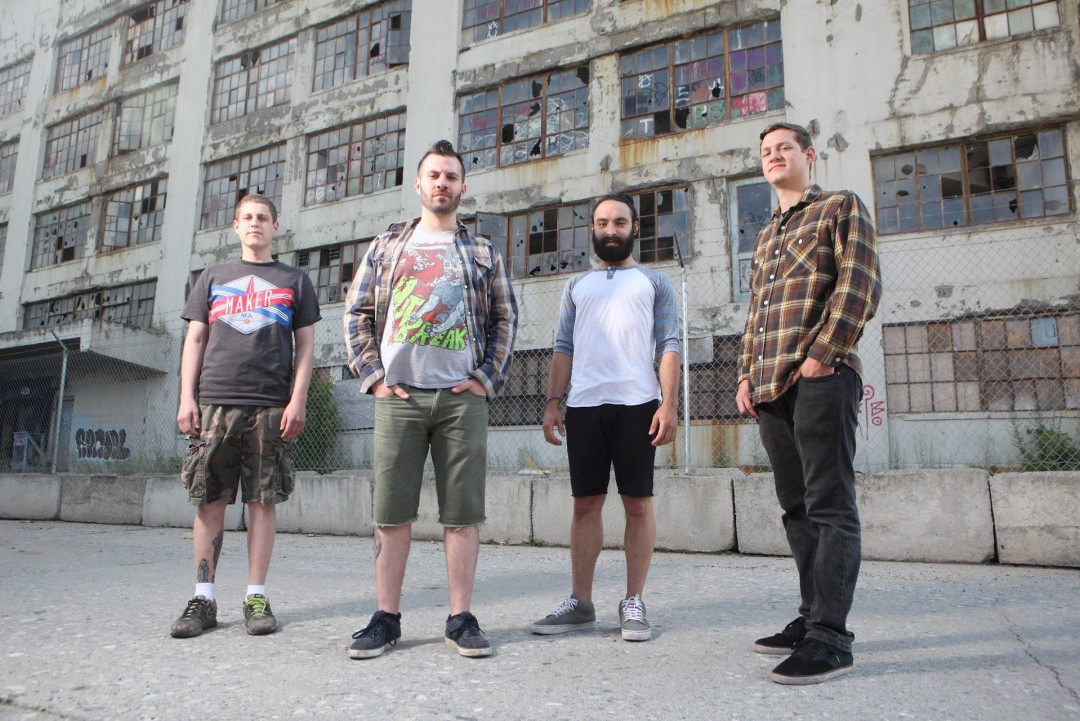 Punknews reviewer Max Power recently sat down with Rochester, New York's Such Gold for a quick chat. The band's in the midst of a busy season of touring in support of their Deep In A Hole EP on Bird Attack Records. Check out their interview below.
Max Power: As a band that has evolved and matured over the course of its existence, how would you describe the changing of your personal influences since the earlier days of Such Gold?
Such Gold: There are definitely bands and artists that we've loved collectively for decades - Propagandhi, Jawbox, Alkaline Trio, etc. There are too many to name.
We've also definitely had plenty of musical interests and phases that didn't age with us as we got older and developed. We probably collectively don't listen to THAT much grindcore any more but we still are fond of the bands that piqued our interest and moved us in some way or another. Although I do fall asleep immediately pretty much every time Ben puts on Psyopus in the van.
Now more than ever we are all extremely open to new sounds and approaches. If you spend any time in the Such Gold van, you'll go from a 2 hour long Frank Sinatra binge to the new Lemuria LP (which is their best to date for sure) to Yes to contemporary classical music. We all still gravitate towards ggressive guitar music, especially that which pushes boundaries and musical/lyrical expectations, but we are constantly finding inspiration and influence pretty much everywhere. I can speak for myself in that I wasn't always so open minded.
What are your thoughts on the current state of hardcore and pop-punk? How have things changed within the scene since the beginning of the band?
You can certainly hear the changing landscape of punk and hardcore from year to year - and that's a beautiful thing. It's crazy how quickly the hive absorbs new vibes and energies from bands that do well. The pitfall is when bands start to sound derivative only of current acts, but the plus side is that the scene gets stronger from developing more and more language to suit the progression. < p>
We grew up in a time where local bands and regional acts were focusing more on being a bit more complicated and ambitious - sometimes to their detriment. I imagine you can hear that in our music. Nowadays I hear bands putting the emphasis on cogent songcraft and keeping themes consistent. You hear a lot of succesful experimentation in the hardcore scene right now but also very strong records front to back - not to mention a dash of nostalgia.
We're currently loving our Bird Attack family - it's amazing to see a label support so many bands who have been putting out high quality, engaging and RIPPING Punk rock. Keeping it real with our buds in After The Fall, A Wilhelm Scream, La Armada, Daggermouth, No Trigger, and Pears.
Do you guys have an agreed upon favorite hockey team? Or are all of the members split into different team rivalries?
We rep the Florida Panthers because they use our music in some of their highlight reels and promo videos. Looking to do some collab merch, or maybe even a split 7" ASAP.
As a band that has successfully transitioned from a 5-piece with a separate vocalist, to a 4-piece - what would you say was the most difficult aspect of this transition?
The most difficult part of transitioning to a 4-Piece was convincing our fans that Ben in fact does play guitar and has been a main writing force in the band since it's conception.
In reality it's been pretty easy and we are extremely grateful of our fans for getting the vibe and taking the ride with us. It has definitely enabled to write the music we want to write and I think people appreciate that.
Do you guys have any recommendations for new bands that myself or the fine people at Punk News should be checking out that we may not be aware of yet?
On the punk end of things - everyone should be listening to La Armada. They are putting out a new record on Bird Attack and it is an absolutely crushing piece of punk rock with real voice and message.
Other than that you should be listening to Palm (Math Rock Beach Boys on 6 hits of acid), Frank Sinatra (obviously) and Hiatus Kaiyote (crazy neo R&B from Australia).
We also play in a couple other bands you should check out. Ben, our old guitar player Skylar, and I play in a Polvo/Shudder to Think sort of band called Taking Meds. Matt plays in a crazy ska/reggae super group called The Hempsteadys and Nate just started playing guitar in Rochester Hardcore heroes The Weight We Carry.
Are there any bands you haven't toured with that you'd like to hit the road with in the future? I heard Daggermouth keep bugging you about playing some shows together…
We would love to do some proper touring with Daggermouth (we are definitely pumped that they are hitting it again) La Armada, and obvious juggernauts like Descendents and Propagandhi.
We would take a run with some of our all time favorite tour buddies in A Wilhelm Scream, After The Fall, and Pears any day of the week though.
What is the future looking like for Such Gold going forward into 2018?
We've been working on a ton of new music but are going to be relatively quiet about that until it starts seeing the light of day. The response to our newest EP, "Deep In A Hole" was extremely positive and our new music definitely follows that road.
The reality is we wrote a ton of music with the idea of following up The New Sidewalk with another full length but we decided to break away the 5 songs on "Deep In A Hole" for its own release. A lot of the new music definitely fits in that vibe.
Other than that we are just going to be hitting the road. We've been taking it a bit lighter this year but we aren't slowing down. We are super stoked for our run of shows in May with Kali Massi. They played right before us at Fest this past year and we fell in love with them in the spot. It's going to be a great little run.
Finally – a light question to wrap things up – what are some of the bands favorite beverages while on the road? I know there is a variety to choose from, so I'll break it into category:
Secret throat healing beverage?
Jameson. Overnight drive beverage?
Gas station coffee so rancid that the developing stomach ulcers keep you more alert than the caffeine.
Preshow beverage?
Jameson. Also beer. Also water.
The winding down post show beverage?
Piss
Thanks guys and all the best going forward into 2018! If there is anything else you'd like to add to wrap it up – feel free to add it in at the bottom! Have a great day.