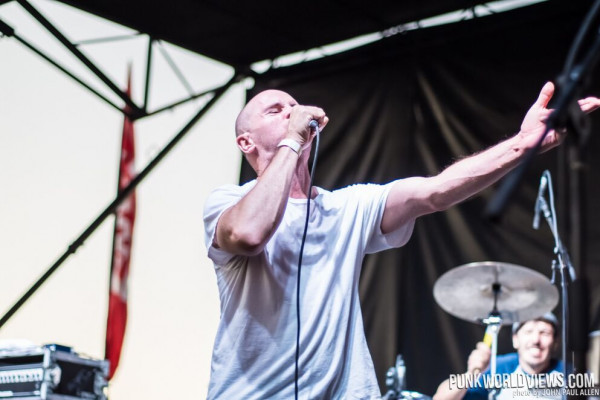 Swingin' Utters have been a "must-listen" Fat Wreck band since their inception. The band's sound is so varied that with each new release that it is totally up in the air as to what direction they will go in next. And that is pretty clearly shown with their most recent release 2017's Drowning in the Sea, Rising with the Sun , a thirty-three track compilation that spans the Utters' decades-long career. Other than that, the band has been relatively quiet aside from the release of Darius Koski's solo album What Was Once Is By And Gone earlier this year. But Swingin' Utters will be performing at Punk Rock Bowling 2018 (Pssst… we're sponsors!) and at a few other places in California (see the full list of shows below) this coming May. So we thought now would be a good time to catch up with one of the members. Contributing editor Ricky Frankel talked with lead vocalist Johnny Bonnel about the band's latest compilation, his song-writing style, what it's like working with Lars Fredriksen of Rancid in the studio, Punk Rock Bowling 2018 and more. Read or listen to their conversation below or on iTunes.
Photo Credit: John Paul Allen / PunkWorldViews.com
I'm here with Johnny Bonnel of the Swingin' Utters. Johnny, how are you doing today?
I'm doing great. Thank you. How are you?
Great! My first question is [the band]'s sound has changed pretty dramatically throughout the years from punk and Oi!, even folk punk and I was wondering, has that been a concerted effort over the years or is that just something that naturally happened in the studio?
I think it's more just what we are into at the time -- never really aiming for a certain sound anything, but our songs tend to come from different genres because we're into so many different styles of music. It sort of automatically comes across in our music. But we're not aiming for any particular sound. We're just trying to play what we like, which is more difficult than anything. To make it simple, that's what we try to do is just play what we like.
Lars Fredriksen of Rancid produced your 1995 album The Streets San Francisco. Looking back, what was it like working with him in the studio in that capacity?
It was great! It was all positive. To have someone in there that really liked our band was awesome. It was just like, there's a fan and he wants to throw some ideas in here and there. It went really well and he made it enjoyable to record and a little bit more relaxed and angry. You could tell on the record that we had a lot of fun and it was mainly because of him and some of his ideas in the group vocals and all that stuff. So yeah, it was a pleasurable experience and good memories for sure.
Can you tell me about the first time the band brought Jack Dalrymple into Swingin' Utters and into the studio to help write the new (at the time) album? What was that dynamic like?
The way we usually work is that Jack sends me music and then I'll write lyrics to it. That's how me and Jack have been working as of late for the majority of the songs that we collaborate on. That's how it's done. He just sends me music, but it doesn't have any vocals or any melody on it -- just the music and then I just write on top of that. It's like a 50/50 collaboration I guess. He is a huge talent obviously with all of the stuff he's done and we're lucky to have him and he's a really great friend.
Now one of my favorite tracks from your most recent album Fistful Of Hollow is "We Are Your Garbage." Who is "we"? And who owns said garbage? What is said garbage?
It's just me talking about how wasteful people are. Lots of people don't understand that the way people survive is from hand-me-downs from people that are little bit more better off than others and that their garbage is our treasure. So it's sort of like saying that tongue-in-cheek sort of way. But yeah, you know, treating the Earth with respect.
So it's an environmental song. Interesting. I guess I read a little bit more into it than I thought.
What did you interpret it to mean?
It seemed self deprecating song at [to me].
Yeah, for sure. It has those elements in it. I think all the songs that I write [are] self-deprecating the majority of the time. I write for people to just interpret it the way they can -- whatever you get out of it. It's a little bit more fun that way.
So Swingin' Utters released the comp Drowning In The Sea, Rising With The Sun on December 8, 2017. That's your most recent release. It's a very interesting title. Why did you decided to call it that and how did the band go about choosing which songs to be on the release? You guys have a massive catalog.
I didn't really take part in [choosing] the songs. That was too daunting for me. I was just like, "I'm sure whoever picks them, I'll be happy with it anyway." It's not like I'm listening to it. I left [that] in the hands of Chad at Fat Wreck Chords and Darius [Koski] and they choose them. I think Fat Mike chimed in a little bit, too. But yeah, it's way too daunting of a task to take [on], so I left it to them. I'm happy with what they picked.
Yeah, it was clearly a massive undertaking with thirty two tracks, I think?
Yeah, thirty-three it says here.
Ah. But still, it's a lot. I wanted to ask you if there is anything in the works for Filthy Thieving Bastards or any new Swingin' Utters stuff coming up.
Oh yeah, for sure. We just got finished recording new Utters stuff. We're excited about that. I don't when it will be released though. That's all stuff that I can't figure out. They have some kind of release [schedule] that they want [to stick with] -- I don't get it. I just say, "Get it out as soon as you can!" It's finished and ready to go. It just needs some minor adjustments and mastering and all that stuff.
And what about Filthy Thieving Bastards? Are there any plans for that?
Not that I know of. Darius is the only person from that band that I talk to and we haven't really come up with any plans to do anything, but I'm game for it and I know Darius is always game for it. We love working with [the other members], but we just haven't had time to really do anything.
Swingin' Utters will be playing Punk Rock Bowling in 2018 and Punknews is a sponsor of the festival this year. When you're in Vegas what is your game? Are you a blackjack man? Slots? Poker? What do you like to play when you're there?
The slots. It's too nerve-racking to go the tables for me.
Well Johnny thank you so much for taking the time to do this interview. I really appreciate it. Is there anything else you would like to add before we end this?
No, man. Thank you for your time. I appreciate it.
| Date | City | Venue |
| --- | --- | --- |
| 05/11/18 | Sacramento, CA | Holy Diver w/ Good Riddance |
| 05/12/18 | Santa Cruz, CA | Catalyst Atrium w/ Good Riddance, Western Addiction |
| 05/27/18 | Las Vegas, NV | Punk Rock Bowling w/ NOFX, Against Me! |
You can follow Ricky Frankel on Twitter @DesertBurst92
(Music from Swingin' Utters is featured on this episode, audio production by Greg Simpson at Velour Underground Studios, Brian Pretus's DownWrite.com Profile)