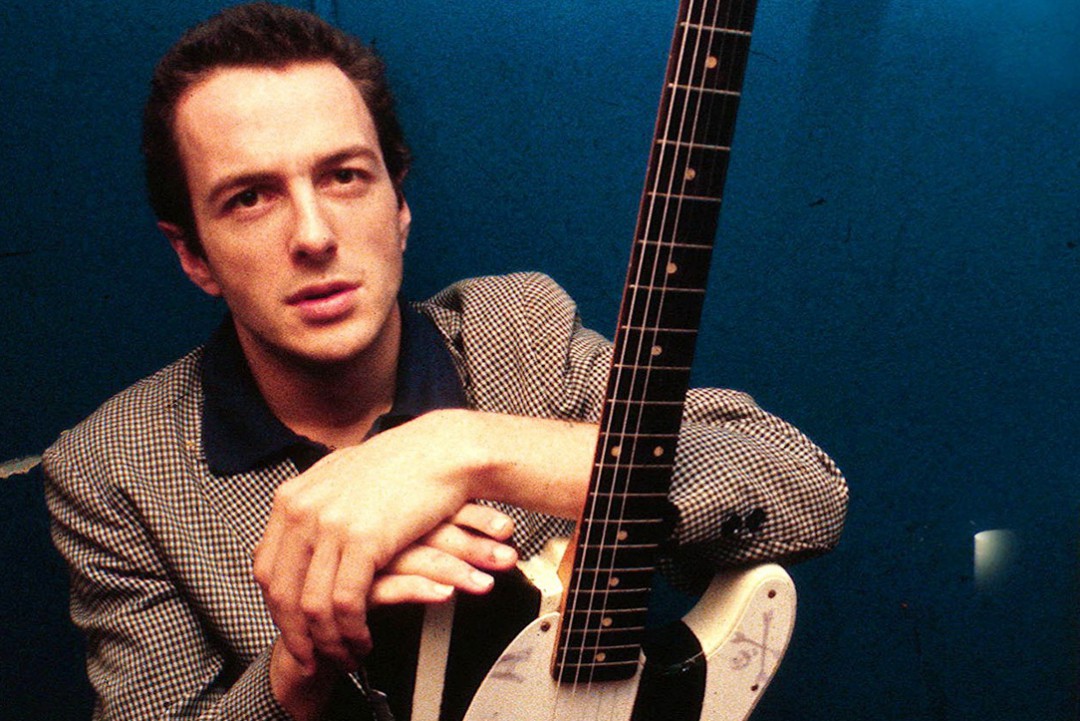 On September 28, the estate of Joe Strummer will be releasing a career spanning 2xCD compilation. It's called Joe Strummer 001. The archiving of the material and compiling was overseen by Joe's widow Luce and Robert Gordon McHarg III. The set focuses on nearly all of Strummer's non-The Clash output with recordings from The 101'ers, his time with The Pogues, his late 80s solo era, his recordings with the Mescaleros, and somewhat surprisingly, a few demos from 1986 recorded by Strummer and former Clash band mate Mick Jones. The release includes a mix of well known material, including his duets with Johnny Cash and Jimmy Cliff, as well as some unreleased alt-versions, demos, and other previously unknown tracks.
In addition to the 2xCD version, there are also several box set versions that include books, vinyl records, and other items. The mega deluxe version includes a six minute cassette that has Strummer and Jones demoing "U.S. North" and a 7-inch record that has demos for the divisive Clash album Cut the Crap . Hear a previously unreleased version of "London is Burning" via Rolling Stone. See the track list below.
Joe Strummer 001 Track List
1. "Letsagetabitarockin"
2. "Keys To Your Heart"
3. "Love Kills"
4. "Tennessee Rain"
5. "Trash City"
6. "15th Brigade"
7. "Ride Your Donkey"
8. "Burning Lights"
9. 'Afro-Cuban Be-Bop"
10. "Sand Paper Blues"
11. "Generations"
12. "It's A Rockin' World"
13. "Yalla Yalla"
14, 'X-Ray Style"
15. "Johnny Appleseed"
16. "Minstrel Boy"
17. "Redemption Song" - Joe Strummer with Johnny Cash from Johnny Cash: Unearthed
18. "Over The Border" - Joe Strummer with Jimmy Cliff from Fantastic Plastic
People 19. "Coma Girl"
20. "Silver & Gold"
21. "Letsagetabitarockin" - 1975 Previously Unreleased Cassette Tape Demo
22. "Czechoslovak Song" / "Where Is England" - 1983 Previously Unreleased early version of "This Is England"
23. "Pouring Rain" - 1984 Previously Unreleased
24. "Blues On The River" - 1984 Previously Unrelease
d 25. "Crying on 23rd" – 1985 Outtake from Sid & Nancy
26. '2 Bullets" - 1985 with Pearl Harbour. Previously Unreleased.
27. 'When Pigs Fly"
28. 'Pouring Rain"
29. "Rose Of Erin" - Previously Unreleased
30. "The Cool Impossible" - 1993 JS Demo Previously Unreleased
31. "London Is Burning" - 2002 Mescaleros Previously Unreleased. Recorded 2002. The last song to be discovered for Joe Strummer 001. Reworked into "Burning Streets" on Streetcore
32. 'US North" - 1986 JS Mick Jones from Candy Mountain. Previously Unreleased.
SEVEN-INCH SINGLE
"This is England" - 1984 July Demo - Previously Unreleased
"Before We Go Forward" - 1984 July Demo - Previously Unreleased
CASSETTE - U.S. North Basement Demo
Unreleased. Recorded 1986. Discovered in Joe's cast cupboard.
Joe Strummer & Mick Jones: Vocals, Guitar, Drum Machine