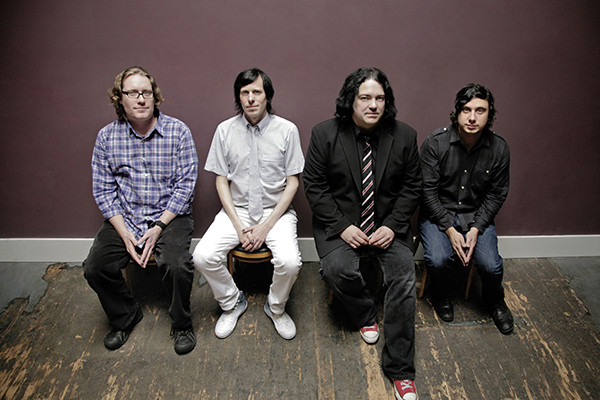 The third and final video from The Posies session at Live! from The Rock Room is now available. To top things off, the band plays a stripped down version of "Definite Door" off of the their album Frosting on the Beater from 1993.
The band is currently in intermission break of their huge 2018 tour, and will now head over to Europe for the final half starting at the end of the month.
You can check out the video, and those tour dates, below.
| Date | Venue | City |
| --- | --- | --- |
| Aug 30-Sep 02 | End of the Road Festival | Wiltshire,UK |
| Aug 31 | Into the Great Wide Open Festival | Vlieland, NL |
| Sep 01 | Zomerpop Festival | Hoogwoud, NL |
| Sep 29 | Upload | Barcelona, ES |
| Sep 30 | La Lata de Bombillas | Zaragoza, ES |
| Oct 01 | Hangar Cordoba | Cordoba, ES |
| Oct 02 | Aulario de la Bomba | Cadiz, ES |
| Oct 03 | Lemon Rock | Granada, ES |
| Oct 04 | 16 Toneladas | Valencia, ES |
| Oct 05 | Sala Caracol | Madrid, ES |
| Oct 06 | Teatro Principal | Pontevedra, ES |
| Oct 07 | San Augustin Kulturgunea | Azpeitia, ES |
| Oct 09 | La Maroquinerie | Paris, FR |
| Oct 10 | Tivoli | Utrecht, NL |
| Oct 11 | Vera | Groningen, NL |
| Oct 12 | Poppodium Nieuwe Nor | Heerlen, NL |
| Oct 13 | Podium Victorie | Alkmaar, NL |
| Oct 14 | Metropol | Hengelo, NL |
| Oct 16 | Zakk | Düsseldorf, DE |
| Oct 17 | Wilde Westen | Kortrijk, BE |
| Oct 18 | Cultuurcentrum Mechelen | Mechelen, BE |
| Oct 19 | The Garage | London. UK |
| Oct 20 | Brudenell Social Club | Leeds, UK |
| Oct 21 | King Tut's Wah Wah Hut | Glasgow, UK |
| Oct 23 | The Deaf Institute | Manchester, UK |
| Oct 25 | Tower | Bremen, DE |
| Oct 26 | Häkken | Hamburg, DE |
| Oct 27 | Berghain Kantine | Berlin, DE |
| Oct 29 | Savoy Theatre | Helsinki, FI |
| Oct 31 | Sanden Kafe at Kulturhuset Bølgen | Larvik, NO |
| Nov 01 | Folken | Stavanger, NO |
| Nov 02 | Madam Felle | Bergen, NO |
| Nov 03 | Teaterhuset Avant Garden | Trondheim, NO |
| Nov 04 | John Dee | Oslo, NO |
| Nov 06 | Pustervik | Gothenburg, SE |
| Nov 07 | Fasching | Stockholm, SE |
| Nov 08 | Inkonst | Malmö, SE |