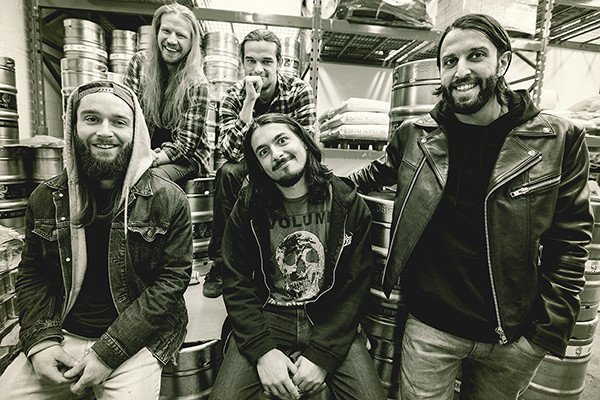 Late last month as the polar vortex was making its presence known across a large portion of North America, Punknews editor Jeff Sorley held a web-chat based interview with two members of Edmonton, Alberta thrash punks Wolfrik: Dylan Toews (vocals) and Mark Seifeddine (guitar/vocals). Included over the short chat were the weather, the upcoming vinyl release of their late-2017 debut EP, as well as their upcoming UK/EU and eastern Canada tour and, of course, the Oilers.
PN: Hi there! This is Jeff from Punknews.org, and I'm in a webchat with Mark and Dylan from Wolfrik. I guess I'll start with: how are you guys doing?
Mark: Hey man doing good it's cold in Edmonton right now trying to stay warm.
PN: Oh, god yes. I think you guys are in the tail-end of the cold front that's supposed to hit me (in New Jersey) later this week!
Dylan: Yeah dude, it's pretty chilly right now. Trying to keep my extremities from freezing off is a real problem. Currently I'm killing at time at work before band practice tonight!
PN: Awesome! Hopefully that will keep you a bit warm for a while!
Dylan: It's five dudes getting nice and sweaty in a small basement, so yeah it heats up quick haha.
PN: LOL on the small basement. I've been there… winters in Chicago area back in the day, we'd always get what you guys got first!
So, for our readers who don't know about you guys yet, tell me who/why is Wolfrik. In a nutshell, how did you guys come about; and would we recognize any of you from somewhere else?
Mark: So we play in a band called Wolfrik. All five of us have been close friends for a long time. We grew up in a small town called Barrhead which is an hour away from Edmonton but we spent a lot of time in the big city going to shows and making the most of what we could in the music scene. There wasn't much for us in a small town when it came to music, it was a shit farming town for the most part. We all moved to Edmonton after high school and started playing and attending shows on the regular. Even though we all didn't play in the same band at the time the right pieces fell into place and Wolfrik was formed around 4 years ago. Since then we've only had one member change: Our drummer Nathan Troock really pushed this band when we needed it the most. It's been two years since he joined and it's been a great ride since.
PN: I just looked up Barrhead on the map. It looks like you guys had a Centennial Museum… you had that going for ya! But, yeah, I can see what you mean.
Now, Wolfrik is one of those, like super-eclectic crossover bands. On the "Skeleton City" EP, there is a lot of thrash and melodic hardcore in there, but also a slight sheen of some more punk stuff. Is this a confluence of your individual music tastes, or do you guys seem to go all in on a bunch of music styles?
And, if I understand correctly, "Skeleton City" is your debut EP, right?
Dylan: I think one of the great part about writing with this group of guys is that we collectively have a fairly diverse range of music we listen to and enjoy. When we're not writing wolfrik songs sometimes we're trying to harmonize a bluegrass tune with acoustic guitars haha. Not that we're specifically influenced by a set number of genres, but I think that between the five of us we cast a pretty wide net on what we listen to. And it all transforms in that sweaty jam space into the music we play now.
We actually released a two song EP with our old drummer a few years back. Due to the quality and the content we decided to keep it as more of a momento for ourselves. So Skeleton City is our first official EP.
PN: Haha! I can understand that.
Speaking of "Skeleton City" (AWESOME cover art, BTW), it was released digitally and on CD in December, 2017, but it's going to be getting a release on vinyl courtesy of Thousand Islands Records in North America and Lockjaw Records in UK/EU soon, is that right?
Mark: Ya man you bet pre orders will be available through both labels Feb 1st with a release date of March 1st (Vinyl and Merch Bundles). We're also playing a Vinyl Release show in Edmonton February 17th for all our hometown fans (ed.- Feb 17th at the Buckingham, Edmonton, AB).
PN: That's pretty cool. How did this come about? I mean, Thousand Islands makes sense as they've been putting out a lot of stuff in the Canadian scene, but what do you know about Lockjaw getting on board?
Dylan: Steve fucking Rawles man (Belvedere, This Is A Stand-Off). We played a show with This Is A Stand-off a while ago and that's when we met Steve. Apparently he liked us or something, because we kept in contact with him and things just progressed from there. He called us back after the first date. Through him we got in contact with both labels, and he's been a huge part in our scheduled tours and the vinyl release. He's running Merit Based Booking and Management now and doing a stellar job. Thanks Uncle Steve!!
PN: That seems to have worked out well for you! I know Bruno (Thousand Islands) is a good guy, and I met Rob Piper (Lockjaw, Darko) a few times back when I lived in the UK. They're both doing really great work, and putting out punk music that is all over the map, not just sticking to one style. When I found out these labels would be releasing your EP on vinyl, it immediately made 100% sense to me.
I also hear that you're putting together a tour in support of the vinyl release, including a trip across the pond. How do you guys feel about that? Will this be your first time gigging over in the UK/EU?
Mark: Haha that's crazy we're pumped for MPF (Manchester Punk Festival) lots of great bands this year I can tell you this much, over half of our set is new stuff. We currently have all the songs done for the next album. When I say done they're written, we've been pre production but it's a slow process, right now we're focused on the upcoming tours and banging out Skelton City for everyone. Realistic time line for a new album would be record later this year out early 2020.
But if all things go well this year everyone might get to hear a couple new ones before then.
PN: I like the sound of that. I'm pretty sure if those new songs are as good as, if not better, than Skeleton City, you'll be doing just fine.
Well, I guess that about wraps things up for this chat. I figure there's just one question left: With Chiarelli out, what are your prognostications for the Oilers?
Mark: Thanks man appreciate the kind words Haha I love this question we're all huge Oiler fans hockey is life around these parts. It's going to be a tough recovery from the damage he did to the team. We would have been better off with no GM the last three and a half years but you can't erase the past. You also can't predict the future but I'll tell you this they have the best player in the world on the roster and some other pretty damn good players. They need to get it right this time and this entire city is hoping they can do just that. Time will tell but in the meantime you guys can give us Taylor Hall back any day haha.
Thanks so much for taking the time to chat today! All the best and hope we can all link up again soon.
Dylan: Haha it was a sweet day when Chiarelli got canned, but it doesn't quite make up for all the bitter days he caused. Hopefully with him out of the picture we can rebuild into a team that can give our top guys some help. It's tough seeing a team being supported on the backs of a few players, but hopefully the right moves behind the scenes will change that. Like Mark said, time will tell.
Thanks for the time! And I'm glad you dig the tunes in Skeleton City ! Hopefully we'll see you around at a show someday. Cheers !
PN: those are the longest answers either of you have given, but it makes sense! Thanks for chatting with me, and have a great time on the tour!!!
Mark: Cheers!!