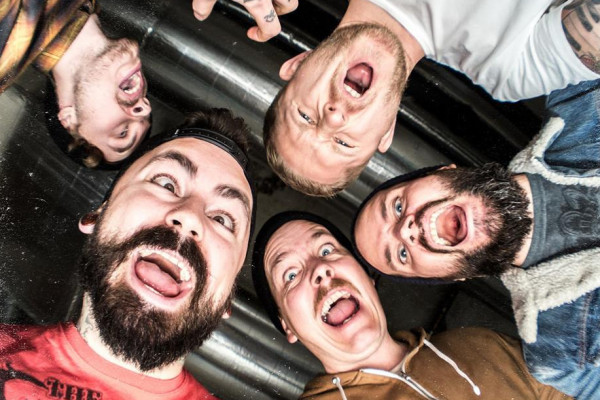 Norway's Dangerface just released their new album, Get Loud!. Punknews' Sam Houlden reached out to the band's Michael Myklebust and found out more about them as a band, their influences, and what went into making their newest record. Check it out below.
Thanks for taking the time to answer a few questions for me, Mike. It would be great to hear a little bit about how the scene is over in Norway? Obviously when a lot of people think about Alternative Music in Norway, then they immediately think of Black Metal, but is there a big punk scene too? No problem, man! Yeah, the black metal scene is pretty big in Norway. Which is understandable. I never understood the whole thing myself, so I just stuck to my Punk Rock. But Yeah, Black Metal is pretty damn big over here. There is a small hardcore/punk scene growing. It's been dying for some time, but all of a sudden for the last few years it's been getting bigger by the day. It's very cliché to write, but the punk scene here is very much about sticking together and unity. It has helped A LOT. In our hometown of Stavanger, the scene is really small. Funny thing is, there are a lot of punk/hardcore/crust bands, but no actual scene. Oslo is where there is a scene. We love playing Oslo. Love all around over there! There are amazing bands from all over the country, but since the distance between towns is so long, it's not always easy to get around as much as we would like. Long-ass drives.
When I listen to the record, I can hear heaps of different influences, both modern and more 'classic' bands - but it'd be interesting to understand whether what I'm hearing is what you guys actually listen to or not…So who are your biggest influences and what did you all grow up listening to? Yeah, the influences are all over the place on Get Loud! No doubt about it. We all come from different musical backgrounds and you can hear it. And that has been a very positive thing in the mix of it all. For this band the influences are varied between a lot of hardcore and rock 'n'roll/punk. Some of us come from skatepunk backgrounds and still love that. But today, and as we get older, this type of music comes more naturally. But of course, The Bronx has been a huge inspiration for me personally. They are the best at what they do. I think you can hear it on the record, too. The Ghost of a Thousand should not be forgotten in this, either. Most underrated band in my mind. Refused and Every Time I Die have also shaped a lot of what we want to do. And don't forget Turbonegro. And of course Gallows, which inspired thousands of bands, has been an inspiration for us too. That dirty sound off Orchestra of Wolves, it just hit me right in the heart. And Norwegian cred-band JR Ewing has always been in the back of my head while making this album. Probably not the first thing that comes to mind, but to me it was always there.
So Get Loud! Is your debut full-length - how was the process of bringing it to life? Is the writing and recording process something that you enjoyed and found easy, or were there any teething problems? Well, the entire process was pretty hectic, actually. We had just barely finished making Young Skeletons and Broken Record. We only had sketches for them. And we knew we wanted the record to be at least 10 songs long. But Jani stepped up everybody's game and completed them. I finished the lyrics just days before we entered the studio. (Fun fact: "Wolves" was the first song we ever made. "Face Horrific" was the second one.) We loved every minute of it and could hear early in the mix that this would sound great. We just didn't know people would enjoy it as much as they do. We've been getting some great reviews, and they blow our minds every time. Never thought we would even get an interview anywhere or anything, we just wanted to make an awesome record.
As I might have mentioned to you guys, I love the record, so an obvious question is when and where you're liable to be touring it as I'm guessing I'm not the only one who can't wait to see those songs live! Thanks, man! Very much appreciated! We are working on that as we speak, actually. Working on a lot of shows around Norway for the most part right now. Gotta sell that record, haha! Were open to play anywhere. But we are coming your way this summer actually (UK). A pretty big thing for us. It's a festival, we are confirmed, but we haven't been announced yet, so I can only tell you so much. They asked if we were interested in coming over to play and we of course said yes. For us this is a huge opportunity and are so very grateful for getting the chance to play this great festival. More details coming soon!
For the record (no pun intended), this probably wouldn't happen if it wasn't for the 'Riot Act' Podcast, with Remfry Dedman and Stephen Hill. They spread the word as well as they could, and we love them for it! Thank you so much, guys!
Thanks again for your time, guys – any last words to the readers of Punknews? Please have a listen to our record Get Loud! It's on any streaming services you prefer. And keep a look out if we're playing any place near you. Come say hi, we love a chat!