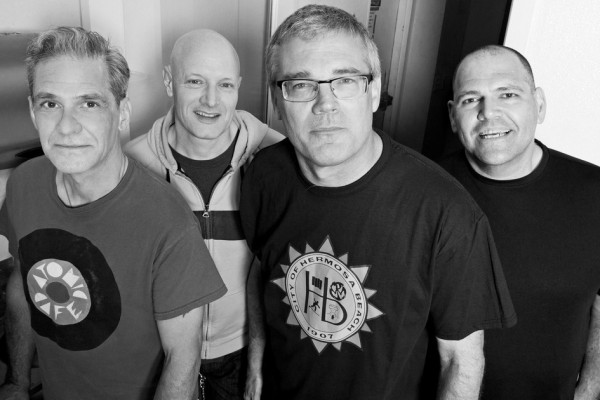 Today, we continue our Sonic Reducer series! In the series, Punknews writers compress a band, genre, theme, or time period into a playlist that would fit on a single CD. Along with the playlist, you'll get either an overview of the topic, such as a band introduction, or a story about how the music in the playlist moved or changed the writer.
It's Descendents and ALL week at Punknews, so staffer Tyler Barret rolled up his sleeves and took a deep dive into the 'Dents! Check it out below!
Sonic Reducer: The Descendents
Tyler Barrett
There it is.
Some 20-ish years later, the modern marvel of the World Wide Web has helped me rediscover the first time I encountered the word "DESCENDENTS."
It was on the back of a Columbia House music club catalog or something equally archaic with a press photo of Less than Jake to help promote what was in retrospect the tail end of the third wave of ska. I already had my copy of Hello Rockview so I was ready to dig deeper, and I couldn't ignore the bold letters plastered across Roger Lima's shirt.
Since the Internet was further away than a phone in a pocket, I asked the person at school I thought most likely able to fill in some missing details: a peer whose older brother was in the local high school ska band.
"Descendants?" he repeated derisively. "Sounds like a Christian metal band." Okay. No help there. Fortunately fate soon found its way into my Discman midway through Fat Wreck Chords' triumphantly diminutive megacompilation Short Music for Short People, which featured a pre-released version of the Descendents' strident 17-second spiel "I Like Food." It was coarse, crude, and with a rallying cry of "Let's turn dining back into eating," connected with my 15-year-old sensibilities. That said, it didn't quite convince me I needed to immediately seek out more material if it was going to be of a similar persuasion. CDs were expensive, and I had to be sure a record had replay value before dipping into my scant supply of cash.
As such, I opted for bargain-priced comps and continued to stumble upon the Descendents via Epitaph Records Punk-O-Rama series, ESPN Presents Music from the X-Games Vol 3, and Fat Wreck's early 2000's political push Rock Against Bush.
What I eventually found through these recordings and subsequent exploration of full-lengths, EPs and rarities was a band capable of both incredible depth ("Sad State of Affairs," "Here With Me," "'Merican") and remarkable juvenility from a frontman with a PhD in biochemistry ("Blast Off," "Everything Sux," "Enjoy") with everything in between spanning the spectrum of human emotion and cognition.
The musical timeline that follows seeks to impart a summary (or Somery, if you will) of the Descendents experience; no small task considering the band's lifespan, permutations, and influence. Although what first emerged in 1977 looks and sounds almost completely disparate from the Descendents today, there are threads that run throughout the band's forty years of existence that have helped them become one of the most iconic punk acts in history.
Drummer Bill Stevenson is one of those threads. As the band's only consistent member dating back to their first recording, his preeminence as a performer and professional approach to music helped him lead the band through sundry tribulations even as he took on a prominent role drumming for Black Flag, arguably the biggest American punk band at the time. In their initial offering on record, Stevenson, alongside bassist Tony Lombardo and founder Frank Navetta on guitar created the two-song 7-inch Ride the Wild / It's a Hectic World, drawing more from jangly surf rock than hard-nosed punk rock and releasing it on their own Orca Records label. At the time of release in 1979, Lombardo was 34 years old and working as a postal worker while Stevenson was just a tenderfoot 16. Lombardo and Navetta split vocal duties here, with Navetta singing "Ride" and Lombardo doing "Hectic."
Technically, they'd been the Descendents since 1977, but in my opinion they didn't really become the Descendents until the arrival of frontman Milo Aukerman shortly after the release of Ride the Wild. The band went from playing punk-tinged surf music to the hardcore punk of SoCal peers the Adolescents and Circle Jerks, solidifying their place in the scene with the release of 1981's Fat EP. Released on New Alliance Records, run by Mike Watt and D. Boon of the Minutemen, the Fat EP is four minutes, 37 seconds of fast, fatuous punk rock with fleeting, seconds-long songs like the aforementioned "I Like Food," "Weinerschnitzel," and "Mr. Bass," the story of a bass fish being caught on Stevenson's boat and mounted on the fisher's wall. While none of the songs were written by Aukerman, his presence ignited both the band's energy and productivity.
(
For as significant an event as the joining of Aukerman and the Fat EP was, the release of the band's iconic Milo Goes to College was twice as momentous. While the full-length LP contained what would become punk standards like "Hope" (covered by Sublime on their seminal 40 Oz to Freedom) and "Suburban Home" (inspiring the name of a long-running Colorado-based punk label), it also foretold the band's coming hiatus as Milo—you guessed it—went to college. It might be prudent here to state the level of sophistication was still sophomoric, as listeners in 2019 would likely find "Bikeage" on the cusp of slut-shaming while "I'm Not a Loser" casually employed gay slurs like a mid-80s John Hughes film. In fact, Sixteen Candles may be a fair cinematic analogue for Milo Goes to College; a suburban high-school affair aimed at undercutting the upper class, assessed as having notable problems now but nevertheless hailed by critics as an achievement of its time. Youthful, earnest, and often inappropriate, its zeal seemed to capture the zeitgeist of the early 80s West Coast punk scene.
In 1985, Milo was back from college but not ready to grow up. The Descendents reconvened under the impetus of Stevenson's recent songwriting stint as a Black Flag member who was left with songs that he felt were more characteristic of the Descendents than 'Flag. Ironically, many of the songs on I Don't Want to Grow Up wound up with characteristics of Black Flag themselves, as producer David Tarling, who worked on 'Flag's Loose Nut, In My Head, and The Process of Weeding Out also contributed his penchant for gritty, fuzzing overdrive to the mix on songs like "Ace" and the standout below, the Stevenson-penned "Good Good Things."
Enjoy! is the crappiest Descendents record, not just for its surfeit of fecal and fart references, but for its heavy incorporation of metal elements, a genre ill-suited for the kind of schoolboy earnestness that makes the Descendents so endearing. While laughable in lyrical content, the title track jams econo like the Minutemen, who incidentally released Enjoy! on their New Alliance label and already had a similarly-titled EP (1981's three-song Joy) to their name. "Get the Time" eludes any of the aforementioned pitfalls and witnesses the band further exploring their pop-punk potential.
Following the departure of bassist Doug Carrion and guitarist Ray Cooper midway through tour promotion of Enjoy! in 1986, the Descendents story became both simpler and more confusing. Simpler because friends Stephen Egerton and Karl Alvarez joined on guitar and bass respectively, thus cementing the band's lineup for the next thirty years (and to this day). More complex because Stevenson had recently conceptualized the philosophy of "All," or the notion of striving for the utmost in all and not being satisfied with mediocrity or homeostasis. This was then incorporated into the band's ethos and thematics with both the record All, the songs "All," "No, All!," and "All-O-Gistics" and perhaps most confusingly, the formation of a new band called All with all the same members minus Aukerman who was departing once again for higher education, this time for post-grad microbiology work.
Musically, All continued to fuse slow thrash riffs with the peppy pogo melodies introduced on Grow Up alongside many of the same themes and sounds held over from Enjoy!, including the flatulent Minutemen aping "Van," the heavy metal of "Cameage" and upbeat pop of "Pep Talk," a song essentially recreated by the aforementioned Less than Jake for their "Great American Sharpshooter." It's uplifting and overwhelmingly positive, though one can't help but wonder how many more people a less gendered perspective might have been able to positively affect. Of course there are reasons behind every decision a musician makes, so I'll keep my hindsight commentary in proportion and exhibit here for what it is.
From 1987 to 1995, Stevenson, Egerton, and Alvarez toured and recorded with All and their various singers while Aukerman pursued his career in science. In 1996, the Descendents (with Aukerman) reconvened and signed to punk powerhouse Epitaph Records for Everything Sucks. A showcase of the musicians' evolution in songwriting that had occurred with All and industry advances in recording quality made the nine years between releases sound like a century. The Descendents emerged from their hiatus with a noodly pop-punk sound on songs like "I'm The One," "Thank You," and "When I Get Old" that made use of unconventional structures and unpredictable transitions without sacrificing catchiness. The record's songs were penned individually by each of the four current members, plus founders Tony Lombardo and Frank Navetta returning to contribute their own songs "Doghouse" and "Eunuch Boy." On "Thank You," an Alvarez track, the narrator writes of open-hearted affection to an unnamed band for a variety of reasons (namely for "playing the way [they] play"), while it's instrumental sister track "Grand Theme" by Egerton is as catchy and expressive as any punk rock instrumental around.
Fast forward another nine years for the next studio Descendents release, 2004's "Merican EP. The band had signed to Fat Wreck Chords, a label that was arguably eclipsing Epitaph as the foremost source of punk rock and headed by "Fat Mike" Burkett of NOFX who claimed the Descendents were the creators of his "all-time favorite record." Again, the Descendents one-up themselves with songs like the cogent political reflections of the title track and the beautifully heartrending "Here With Me," originally written in 1989 for Aukerman's short-lived graduate school band Milestone.
A mere month later, the band dropped 'Merican's companion full-length, Cool To Be You. It'd be misleading not to acknowledge my bias as these records found spots in my rotation just as I was coming of age as a discerning music consumer, but even in retrospect they sound and feel like a band hitting its stride musically. Cool To Be You is one of those rare punk records that's strikingly cohesive sonically but yet not so homogeneous that it ever gets boring…simply because the songs are almost all undisputable winners. "Talking" exemplifies the relative ease with which the band executes songs that are simultaneously infectious, unorthodox, and ambiguous in mood. Is this song happy? Is it depressing? To me, that ambiguity is trademark Descendents.
Following another long studio hiatus (this time 12 years), the Descendents again returned to the fold for Hypercaffium Spazzinate. With song credits from each member and a five-song bonus EP, the band is again doing what they do best, playing interesting pop-punk ("On Paper," "Victim of Me," "Smile") with an occasional humorous hardcore rager ("No Fat Burger") and plenty of depth ("Limiter," "Comeback Kid," "Spineless and Scarlet Red"). On the anthemic "Without Love," the band is probably at their closest to a stadium rock sound, accompanied by a video of them playing in what looks like, well, a stadium.
In 2016, Aukerman told Spin that after years of toggling between his role as a scientist and musician, he was finally devoting himself to music full-time. His interest in research was waning, he said, and a layoff from his job at DuPont was the catalyst for making a career out of singing nearly forty years after he first shouted into a microphone on the Fat EP. The result? No longer having to wait a decade between studio output! On April 25th, 2017, months after Donald Trump pilfered his way to the White House, the Descendents responded with their most encouragingly idealistic endeavor yet, the grand declaration "Who We Are." While 2004's "Cool To Be You" lamented, "I don't believe in unity, it's just one more abandoned dream," "Who We Are" rallies full-force for unity, believing it not only possible but necessary. Assembled as a 7-inch single for Record Store Day 2018 alongside "Pavlov's Cat" and "Opt In," it's clear the band isn't settling for less than "all" and continues to grow into new roles even if that means setting aside cynicism for the greater good.
As I sit here mulling over the previous 2000 words, I'm left wondering if I've even come close to doing the Descendents the justice they deserve. Or if that's even really possible for a band going forty years strong and whose influence has compounded exponentially with the countless acts who cite them as inspiration (Blink 182, the Offspring, Sublime, and NOFX to name a few). So instead I'll keep it simple and close with an earnest declaration of gratitude I think I've heard before: "Thank you for playing the way you play."