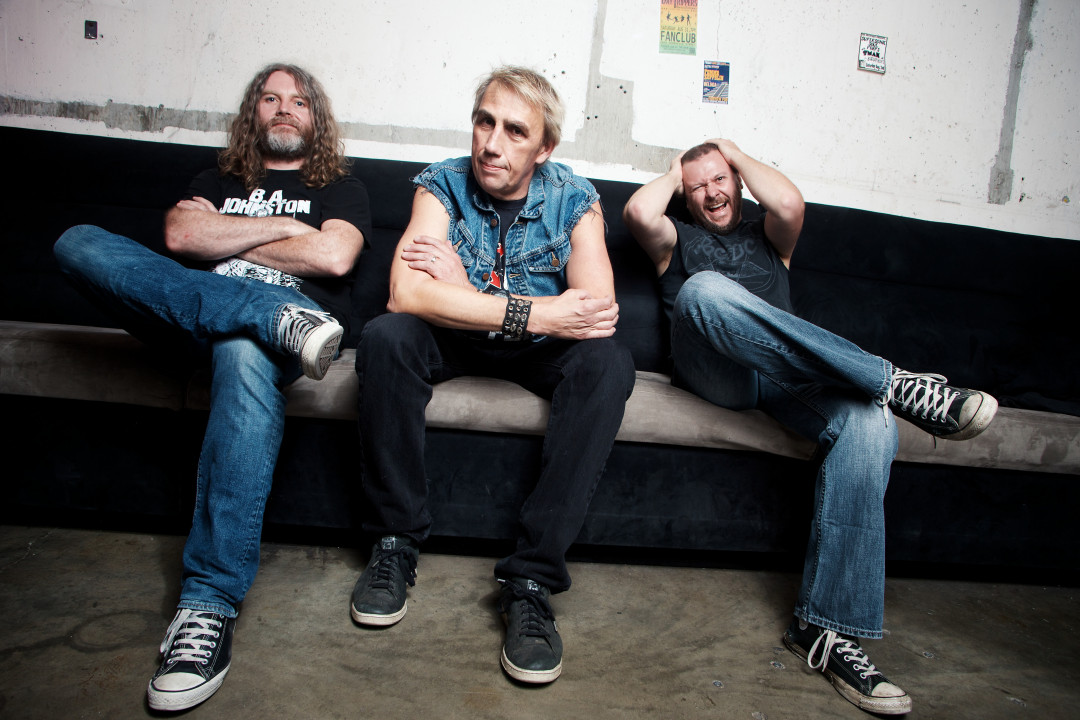 Today, we are THRILLED to debut the new video by punk rock legends D.O.A.!
Frontman Joey Keithley is a Canadian treasure. The man has been blasting out firece punk jams for over 40 years now and he has never wavered on his dedication to fighting for the little guy- all while setting that message to an absolutely kicking, three chord-attack. On the aptly named "Fight Back," Keithley's howl is as golden and combustible as ever while the band whips out soaring chords that are equal parts inspiring and aggressive. In the video, the band splices video of people fighting for their rights with in-studio shots of the band in their inimitable three-piece glory. D.O.A. might be first wave punkers, but their new material stacks right up there with their classics.
You can pick up the band's latest studio album right here! (They've also got an early rarities compilation coming out this summer, too!) Meanwhile, check out the video for "Fight Back" and upcoming tour dates below, right now!
| Date | Venue | City |
| --- | --- | --- |
| Friday May 17th | Spirit Bar | Nelson, BC |
| Saturday May 18th | Elks Lodge, | Kimberley, BC |
| Sunday May 19th | The Drake Pub, | Canmore, AB |
| Tuesday May 21st | The Slice, | Lethbridge, AB |
| Wednesday May 22nd | Shepard Park, The Barn, | High River, AB |
| Thursday May 23rd | Bo's Bar & Stage, | Red Deer, AB |
| Friday May 24th | The Border Crossing, | Calgary, AB |
| Saturday May 25th | Temple | Starlight Room, |
| Edmonton, AB | Thursday July 11th | Limelight, |
| Williams Lake, BC | Friday July 12th | The Legion, |
| Prince George, BC | Saturday July 13th Firehall Brewery, | Oliver, BC |
| Tuesday July 30 | Bregenz, | Austria |
| Wednesday July 31 | K4, | Nuremberg, Germany |
| Thursday August 1 | Kult 41, | Bonn, Germany |
| Friday August 2 | 1 Brakrock Eco Festival, | Duffel, Belgium |
| Sunday August 4 | Rebellion Festival, | Blackpool, UK |
| Monday August 5 | New Cross Inn, | London, UK |
| Wednesday August 7 | Wild at Heart, | Berlin, Germany |
| Thursday August 8 | Pogolos, | Warsaw, Poland |
| Friday August 9 | Rude Boy Club, | Bielsko Bials, Poland |
| Saturday August 10 | Ffud Festival | , Sered, Slovakia |
| Sunday August 11 | OCCII, | Amsterdam, Netherlands |