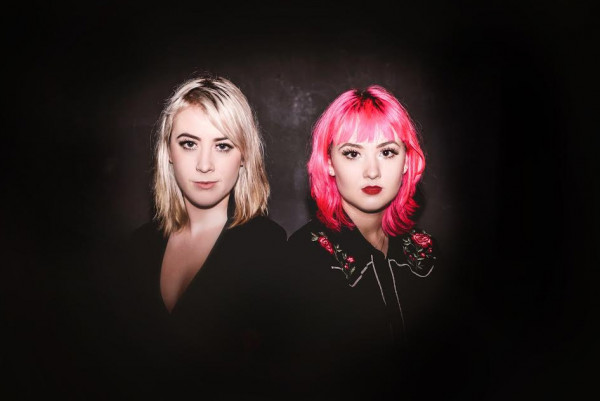 Sister duo Dog Party have been laying down some heavy pavement this year to support their 2018 release of Hit & Run, possibly earning their right to be named road dogs of 2019. We sat down to catch up with Gwendolyn Giles of and got an update on their new album.
Hi there! I think you gals spoke with PN a little over a year ago. It has been over 10 years since your original debut release. Do you think your band still holds up the same vision to your original vision (in 2009) of your band?
We started playing when we were so young (elementary school) to where we didn't necessarily have a vision. The root of the band still holds true – the general energy and idea – but it's developed over the years as we have transitioned into adulthood.
The internet tells me that you are working on new material. What is the vision or themes of this new record?
The new martial delves into the concept of good and evil – the angel and devil on your shoulder. If you look at the work in comparison to Hit & Run, Hit & Run is more about heartache while the newer material taps into the complexity of human emotion. Lucy has been studying a lot of song structure from music of the 50s and 60s which is reflected in the tracks as everything is methodically laid out.
You gals have previously released your albums through labels like Asian Man and Burger Records. What made you decide to go the self-release route with your last record? will the next album be this route as well?
It was a great opportunity for us to learn more about the other side of the music industry that a lot of musicians don't necessarily know about. When we brought it up with Mike Park of Asian Man Records, he was supportive of the idea. It was a great learning experience and a whole other way for us to interact with our fans. For this upcoming record… we'll see! Hit & Run is also out on Burger Records. They've supported our cassette releases for our past three albums.
How did your band name come about?
When we started in 2007 Lucy insisted that "Dog" be in the name. I started listing off names and Dog Party stuck!
You gals started playing together at a very young age (being sisters and all), How is that?
Being sisters made starting a band incredibly easy. We had our gear set up in the front room where we would practice constantly! We also had the same schedules, so there were no conflicts for booking shows. Things got a little tricky once Gwennie moved away for college, but our sisterly connection remained strong!
You just finished tour with Reel Big Fish/ The Aquabats (this will probably post after this tour) how was tour?
The tour was a blast! Both bands have phenomenal live sets and stage energy! The crowds were incredibly receptive and we got to play a handful of new cities.
Any last word or things to share?
We are about to join Bad Cop / Bad Cop for a week followed by a tour with CJ Ramone.
Tour Dates
| Date | Location | Venue |
| --- | --- | --- |
| 7/27 | St Louis, MO | FUBAR |
| 7/28 | Kansas City, MO | recordBar |
| 7/30 | Denver, CO | Lost Lake |
| 8/1 | Phoenix, AZ | Rebel Lounge |
| 8/2 | San Diego, CA | Soda Bar |
| 8/3 | Santa Ana, CA | Constellation Room |
| 8/9 | Philadelphia, | PA MilkBoy |
| 8/10 | New York, NY | The Bowery Electric |
| 8/11 | Boston, MA | Maggy's Lounge |
| 8/13 | Liverpool, NY | Sharkey's |
| 8/14 | Montreal, QC | L'esco |
| 8/15 | Toronto, ON | Horseshoe Tavern |
| 8/16 | London, ON | London's Music Hall |
| 8/17 | Detroit, MI | Small's |
| 8/18 | Chicago, IL | Chop Shop |
| 8/20 | Omaha, NE | Lookout Lounge |