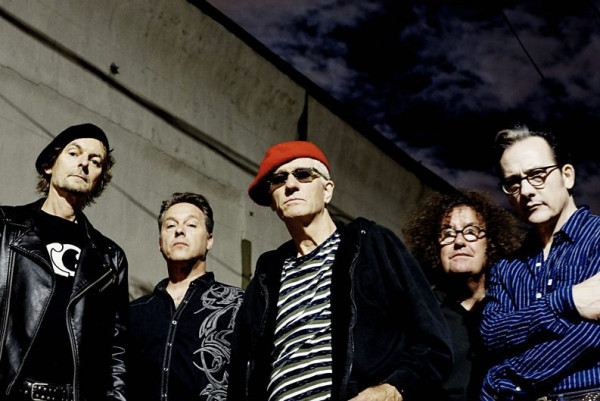 On October 28, The Damned are hosting (and playing) the "night of a thousand vampires" at London's Palldium. The band is hoping to make it the largest gathering of vampires ever recorded, and are trying to get into the Guinness book of world records. The band is requiring that people come dressed as vamps, and upon arrival, you have to sign in to confirm your Drac-status. The band is playing two sets and you can see their statement below.
Damned statement
Ladies and Gentlemen, How do.
It is I, your truly Damned Tour Manager and humble narrator.
We have finally heard back from the Guinness Book Of Records and it is somewhat different to what we believed it would be.
From Guinness:
"To qualify as a Vampire you need to be wearing the following:
For the Gentlemen: Full, traditional vampire fancy-dress costume. This would normally consist of the following: Black trousers, black shoes, waistcoat, shirt, black cape or collared overcoat (a different colour on the inside will be permitted), fangs on the top set of teeth.
For the Ladies: an evening dress is required – black, white or red or any such elaborate Victoriana or gothic attire in keeping with the theme. Plus Red Lipstick & Fangs."
Now, from us:
Of course the above description leaves out a mulitiude of iconic vampiric looks. From "Nosferatu" to Christopher Lee (who wore a black suit w/ cloak, "Count Yorga"(smoking jacket), thru "The Hunger"(well dressed modern), "The Lost Boys"(80 's gear), "Underworld" (Kate's black leather jumpsuit) "Twilight" (regular modern wear) etc.
So, if you can or are planning on a more TRAD VLAD DAD Vampire (ala Lugosi) great!
Otherwise please make your fangs and accoutrements obvious, STAKE your claim. (I know)
We will set up a photography booth for individual pictures on the way into the Palladium, you must also sign the 'Certified Vampire' book.
I know it's a pain in the neck (sorry, again I couldn't resist) but let's do this Damnedsters!
The running order of the evening will be …
6.45pm - Doors
7.00pm - Arrival of The Funeral Cortege
7.15pm - Take Your Seats
7.45pm - The Circus Of Horrors Cabaret
8.15pm - The Damned Act 1
9.30pm - Intermission (20 Minutes)
9.50pm - The Damned Act 2
10.30pm - Curfew
Let's add another page to our "BOOK OF THE DAMNED". As Always, Joe D.