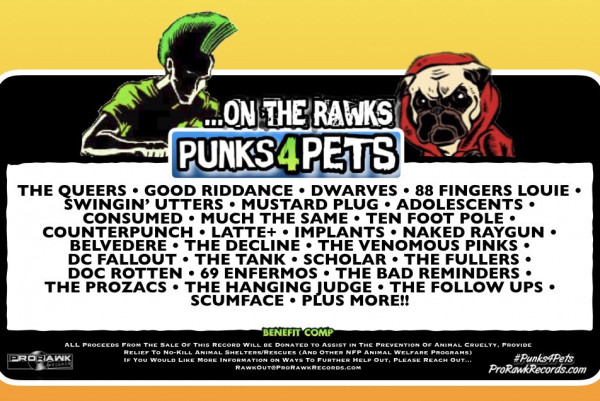 ProRawk Records has just announced the release of …On The Rawks, a Punks4Pets benefit compilation. All proceeds from the sale of this album will be donated to assist in the prevention of animal cruelty, provide relief to no-kill animal shelters, and help other non-profit animal welfare programs. The comp will be available on CD early February and on double vinyl in late March. Pre-orders will be open on Friday, December 20th at prorawkrecords.com.
The album was mastered at Chicago's Bombshelter Recording Studio by Dan Precision (88 Fingers Louie). The artwork was provided by Hyde Illustrations in Italy.
Everyone involved was kind enough to somehow donate their time and services to this great cause.
The compilation will feature 28 songs from bands like Good Riddance, 88 Fingers Louie, The Queers[[, [[The Dwarves, Consumed and many more. See the full list below.
Track Listing
1. Consumed-Wake Up Warning
2. Good Riddance-Take It To Heart
3. 88 Fingers Louie-My Final Story
4. The Dwarves-Anything You Want
5. LATTE+-Waiting For You
6. Naked Raygun-Broken Things
7. The Decline-Verge Collection
8. Implants-Stuck Around
9. Much the Same-Haunted
10. The Bad Reminders-Leaving to Know
11. The Queers-Just Say Cunt
12. Mustard Plug-What Does She Know
13. Ten Foot Pole-Unbroken
14. The Venomous Pinks-I Don't Care
15. Scumface-Punks Not Dead
16. DC Fallout-Generation S.O.S.
17. The Prozacs-Outta My Face
18. The Fullers-Remember Me
19. 69 Enfermos-Fading Away
20. The Tank-I'm The Man
21. The Hanging Judge-Vultures
22. Belvedere-Slaves to the Pavement
23. Adolescents-Escape from Planet Fuck
24. Counterpunch-No Man's Land
25. Scholar-Stand Up
26. Swingin' Utters-Deranged
27. The Follow Ups-Crystal Lake
28. Doc Rotten-So Long