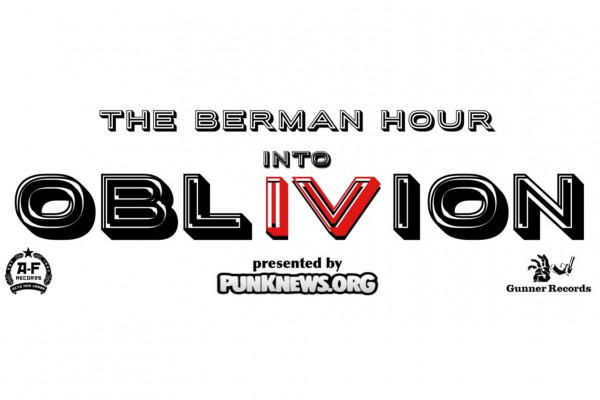 We are so pleased to bring you another special episode with The Berman Hour podcast. We are teaming up to present a exclusive first for Into OBLivION, a podcast series where singer/songwriter Jeff Berman aka Divided Heaven will be interviewing the folks involved in making his upcoming album, Oblivion. For the next few weeks we will be dropping interviews with producers Charlie Stavish, Frank Turner, Tim van Doorn; engineers Mike Bardzik and Bradley Riot; guest musicians Randy Moore, Jess Guise, Jen 'Pop' Razavi and more. Oblivion will be out February 2022 through A-F Records and Gunner Records. The release is available for pre-order, you can click here to grab your copy.
Today, we have the next installment with the fantastic Frank Turner, see below.
Frank F'n Turner on the pod! In what could only be hailed as the most significant conversation to ever occur between an Englishman and an American, Jeff took this opportunity to ask Frank the important questions about… Tori Amos?!? Aaaaand, New Jersey-hardcore legends VISION, and (most importantly) why the hell Frank agreed to work on a Divided Heaven record. In all seriousness, this conversation does get quite candid about the complexities of touring during covid, the advantages (?) of recording remotely and the deeply personal issues that Frank writes about on his new album FTHC. Please enjoy this unique interview that captures Frank and Jeff in a real honest discussion; with a ton of mutual respect, a slice of humor, in unchartered topics and with much-belated apology to Lou Koller from Sick Of It All. Thank you for listening.

Frank Turner produced part of the new Divided Heaven album, Oblivion, which comes out February 4th!

Pre-order Oblivion at dividedheaven.com

Pre-save Oblivion at smarturl.it/DHiv

Frank Turner's new album FTHC comes out February 11th!

Pre-order and pre-save FTHC at frank-turner.com

The Into OBLivION Series on the Berman Hour podcast is presented by PunkNews.org.