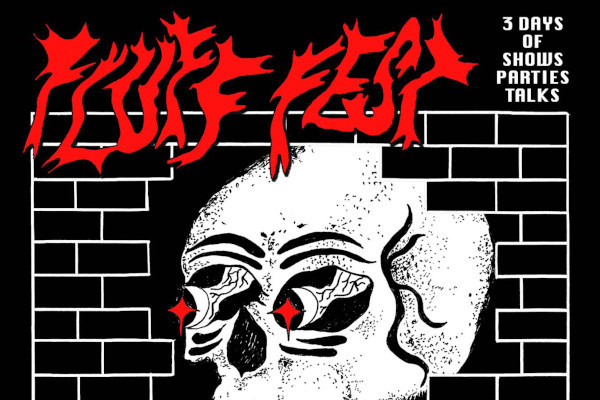 Fluff Fest has announced the final round of bands for this year's festival. Clowns, Island of Love, Pest Control, Aldo Morto, BAD BREEDING, Bait, Black Curse, Cameleon, CIA Debutante, Crna Žuč, CRYPTO ORDER, Existence, G.U.T.S., Lawful Killing, Layback, Lickspit, Moral Bombing, Nachttante, NBDY & Talk=Trouble, Nervy, Pest Control, Radical Kitten, Second Guessing, SLOI, Speedway, Spirito di Lupo, Spirit Possession, Syndrome 81, Tongue Depressor, TRAVØLTA, Viimeinen, Fleshlicker, Knifedoutofexistence, and WHIMM join the previously announced lineup. This year's Fluff Fest will be the final edition of the festival and will take place July 27-29 at Airfield Rockycany in Rockycany, Czechia. Read the festival's statement below.
Fluff Fest Statement
THIS YEAR'S FLUFF IS THE LAST FLUFF EVER!
Before we announce the final batch of bands from this year's line-up, we need to let you know that Fluff 2023 will be the last Fluff ever.
I feel massive pride in what Fluff has always been – a self-sufficient and self-funded event where people from the hardcore punk community could be themselves. It has started two decades ago in a very different world, and I believe it has succeeded in what was our original idea – to bring like minded hardcore/punk bands and fans from all over the world to our hometown. There wasn't much happening in late 90s for us over there, and Fluff has changed it all, for which I am grateful.
But the reality twenty years ago was a different reality than we live in today. The world around us is changing, including the hardcore scene. It has become increasingly more physically, mentally and financially challenging for us to put the festival together, especially in these uncertain turbulent times. Fluff has always been made by a small group of people, the way small diy shows are done. We were able to keep the festival running for over 20 years in the same or similar way. Something I could not have imagined in the beginning. But I do not see a way to keep Fluff that way any longer.
Building a festival from scratch on an airfield is quite demanding. We've always been trying to do our best to make the festival as sustainable as possible, but when we look at it from today's perspective we think that it's not enough and that building a festival on a bare field is unnecessary splurge, and with the climate crisis in mind things can be done in a more sustainable way.
So here we are, doing the last ever edition of Fluff in Rokycany airfield. We would like to thank everyone who has ever been part of it in one way or another (crew, visitors, bands…) and helped make it special. Fluff couldn't become what it is without you. And it would be really nice if we met one more time in Rokycany and closed this chapter together.
But we are not disappearing completely. We will continue to run Underdogs', a place for all misfits as we like to call it. We will continue to promote shows. We might even come up with a new festival with a slightly different concept in the future… who knows.
Thank you and maybe see you this summer.
Michal, Fluff