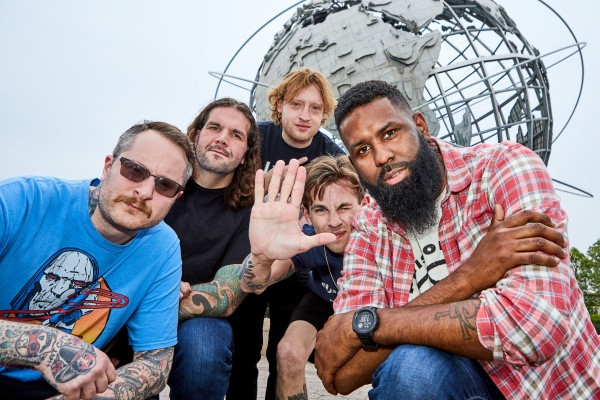 Restraining Order have announced that they will be releasing a new album. It is called Locked In Time and will be out on July 21 via Triple B Records. The band has also released a video for their new song "Misled". Restraining Order will be touring with Drain starting later this month and released their album This World Is Too Much in 2019. Check out the video, tracklist, and their full live dates below.
Locked In Time Tracklist
1. Addicted (Reprise)
2. Left Unsaid
3. Inmates
4. Should've Known
5. Misled
6. Fight Back
7. Another Better Day
8. On The Run
9. Wouldn't You Agree?
10. Locked In Time
11. Breakout
12. Painted World

| Date | City | Venue | Details |
| --- | --- | --- | --- |
| 6/12 | Columbia, SC | New Brookland Tavern | w/ Drain + Drug Church + Magnitude + Gel |
| 6/13 | Atlanta, GA | The Masquerade | w/ Drain + Drug Church + Magnitude + Gel |
| 6/14 | Tampa, FL | Brass Mug | w/ Drain + Drug Church + Magnitude + Gel |
| 6/16 | Houston, TX | Warehouse Live | w/ Drain + Drug Church + Magnitude + Gel |
| 6/17 | Dallas, TX | The Factory | w/ Drain + Drug Church + Magnitude + Gel |
| 6/18 | Austin, TX | Oblivion Access Festival | w/ Drain + Drug Church + Magnitude + Gel |
| 6/22 | London, UK | Oslo-Hackney | w/ No Pressure + Sunami + Pain of Truth + C4 |
| 6/23 | Manchester, UK | Outbreak Festival | w/ No Pressure + Sunami + Pain of Truth + C4 |
| 6/24 | Ysselstein, NL | Jera On Air Festival | w/ No Pressure + Sunami + Pain of Truth + C4 |
| 6/25 | Hamburg, DE | Booze Cruise Festival | w/ No Pressure + Sunami + Pain of Truth + C4 |
| 6/26 | Karlsruhe, DE | Stadtmitte | w/ No Pressure + Sunami + Pain of Truth + C4 |
| 6/27 | Zurich, CH | Dynamo | w/ No Pressure + Sunami + Pain of Truth + C4 |
| 6/28 | Padova, IT | Sherwood Festival | w/ No Pressure + Sunami + Pain of Truth + C4 |
| 6/29 | Milan, IT | Legend Club | w/ No Pressure + Sunami + Pain of Truth + C4 |
| 6/30 | Munich, DE | Feierwerk | w/ No Pressure + Sunami + Pain of Truth + C4 |
| 7/1 | Nuremberg, DE | Desi | w/ No Pressure + Sunami + Pain of Truth + C4 |
| 7/2 | Vienna, AT | Arena | w/ No Pressure + Sunami + Pain of Truth + C4 |
| 7/3 | Budapest, HU | Durer Kurt | w/ No Pressure + Sunami + Pain of Truth + C4 |
| 7/4 | Warsaw, PL | Hydrozagadka | w/ No Pressure + Sunami + Pain of Truth + C4 |
| 7/5 | Berlin, DE | Cassiopeia | w/ No Pressure + Sunami + Pain of Truth + C4 |
| 7/6 | Erfurt, DE | Veb Kultur | w/ No Pressure + Sunami + Pain of Truth + C4 |
| 7/7 | Dresden, DE | Chemiefrabrik | w/ No Pressure + Sunami + Pain of Truth + C4 |
| 7/8 | Ypres, BE | Ieperfest | w/ No Pressure + Sunami + Pain of Truth + C4 |
| 7/21 | Chicago, IL | The Rumble Festival | |
| 7/29-7/30 | Los Angeles, CA | Sound and Fury Festival | |
| 8/6 | Wallingford, CT | Cherry Street | w/ Crown Court + Violent Way |
| 8/18 | Baltimore, MD | Ottobar | w/ Mindforce, Simulakra, Scarab |
| 8/19 | Syracuse, NY | Silver Street | w/ Mindforce, Simulakra, Scarab |
| 8/20 | Portland, ME | The Cavern | w/ Mindforce, Simulakra, Scarab |
| 9/9 | Brooklyn, NY | Brooklyn Monarch | w/ Gorilla Biscuits + Cold World |
| 10/27-10/29 | Gainesville, FL | The Fest | |
| 11/17-11/19 | Tulsa, OK | Flyover Festival | |