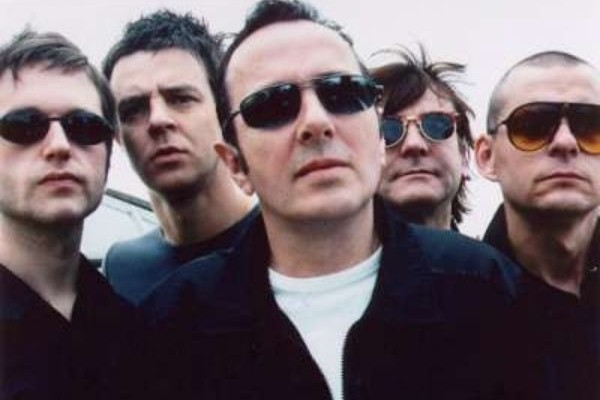 While the post–
Clash
efforts of Mr. Strummer always were engaging and entertaining, none had the instant grip and relevance that the seminal band had. That is, until he came together with the group of musicians that would be dubbed "The Mescaleros."
The band's initial outing
Rock Art and the X–Ray Style
was a mix of techno and reggae, punk and R&B. It was, in the simplest sense, a sampling of all that had come before in Strummer's life thrown into one album. In the progression of the songs on that album, you can feel the band becoming more comfortable with the variety of styles found throughout, ending with "Yalla Yalla" and "Willesden To Cricklewood," two songs that foreshadow the transformation that would come on
Global a Go–Go
.
Global a Go–Go
marked a turning point for the band, taking the myriad of influences and scattered riffs from
Rock Art
and combining them to form a document that can truly classified as "World Music." The album ranges from flute interludes and leads in "Bhindi Bhagee" to the 17+ minute opus "Minstrel Boy", which pulls from Irish and American folk influences to create an emotional rollercoaster in it's simplicity and beauty.
Sadly, after the release of
Global
, Joe passed away in 2002, leaving a smattering of unfinished and finished demo tapes and ideas for songs. The remaining Mescaleros took these and molded them into
Streetcore
, a moving eulogy for a fallen friend. Opening with "Coma Girl," a stripped down rocker with Joe's trademark jack–hammer strumming and the last he would ever do in the studio, the album then winds it's way through the influences of the members, stopping by for a visit with Black Grape on "All In A Day," Johnny Cash on "Long Shadow," and Bob Marley in a haunting rendition of "Redemption Song." Ending the album, and ending the career of one of music's greatest writers, is a cover of Bobby Charles' "Before I Grow too Old," retitled "Silver and Gold," a ballad about making the most of your life while you can, "before [you] grow too old."
"OK, that's a take"