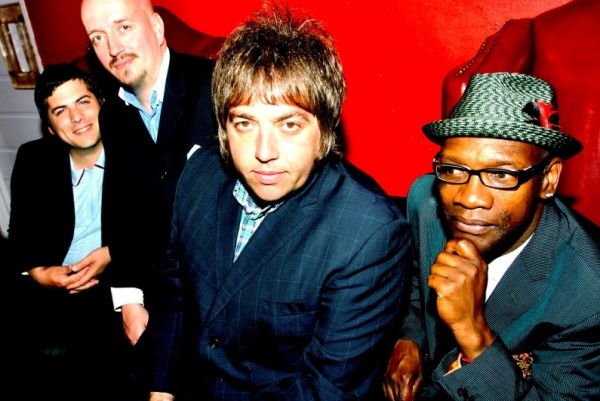 Introducing Pama International a soul–injected ska, rocksteady & dub sensation for the 21st century. Fronted by long–time musical cohorts Finny & Sean Flowerdew (The Loafers, Special Beat, Skooby & Skanga) Pama boast an all–star collective including The Specials' Lynval Golding, Madness' Lee Thompson alongside members from Galliano, Bentley Rhythm Ace, Steel Pulse, Style Council & Pop Will Eat Itself.

To date Pama Intl have releases 3 critically acclaimed albums & one ep on their own Jamdown imprint, recorded a bombastic Radio One Session, sold–out tours of Italy, Switzerland & UK, played triumphant sets at Glastonbury'04, London's Respect Festival (twice) and Womad'05 (to a rocking audience of 9000) plus signed deals in USA, Germany, France, Italy , Japan, Switzerland & Spain. Their recordings have been championed on the airwaves and sound systems the world over including here at home with David Rodigan–Kiss 100, xfm, Phil Jupitus–BBC6 Breakfast Show and Mike Davies on Radio One.

Not content to keep their sound to the music world alone six appearances on British and Hollywood film soundtracks have already been landed. The most successful of which is included on Pama's debut, the Flowerdew penned 'Truly, Madly, Deeply', as featured on 'Lock, Stock & Two Smoking Barrels'.

2005 — In May Float Like a Butterfly became Pama Intl's first release in USA on the fantastic Asian Man Records and Jump Up Records (on vinyl) and is already creating a huge buzz stateside.

Whilst back at home, July 2005 saw the release of their latest work Dub Store Special ep…a quintessential collection of the very best dub–fuelled UK ska sounds around today. Produced by the mighty Groove Corporation (previously mixed Sly & Robbie, Dillinger, Luciano, Bim Sherman, Thievery Corporation, Overproof Corporation and Bob Marley!) after an introduction from dub–legend Adrian Sherwood. The resulting 6 tracks are monstrous. Bone shaking dubs vs. soul–fuelled ska & reggae, all built on beautifully crafted songs, which are already picking up airplay the world over.

Live Pama Intl excel. They have already played alongside some illustrious artists including Madness, The Skatalites, Rico, Zion Train, Jerry Dammers, Dub Side of The Moon creators– Easy Star All–stars, and had Studio One diva Dawn Penn and TJ CHILL from Afrika Bambaatas Zulu Nation both perform with them. Pama Intl have created a massive underground following, so much so that the new ep sold out it's first pressing in 5 shows!

The rest of 2005 see's Pama Intl busier than ever. Currently working on two new albums for release next year with some of the biggest names in reggae (on probably the worlds most respected reggae label) and also out gigging around UK and Europe. Along the way they'll be doing a number of shows with Trojan Sound System, featuring the likes of Tippa Irie and Dennis Alcapone.