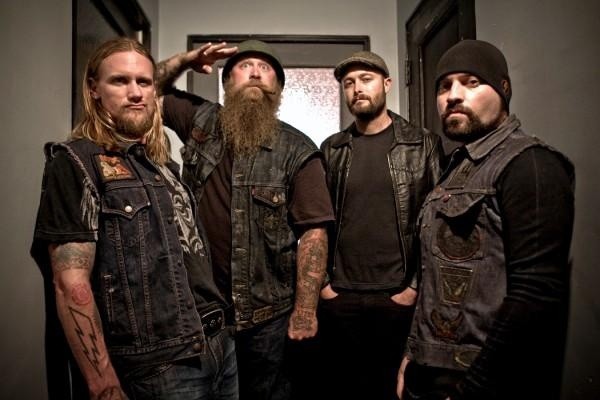 Formed in late 2005 by original members Vallely and guitarist Jason Hampton, Revolution Mother immediately picked up where the pair's former project – Mike V and The Rats – had ended. With Hampton holding a penchant for blues–based overdriven riffs and Vallely's proven vocal delivery, the act slowly eased away from its former all–hardcore foundation, first evidenced by the 2006 release of its debut five–song EP, Enjoy The Ride.

Revolution Mother retooled its line–up later that year, adding bassist Colin Buis (Twilight Transmission, Mean Season) and drummer Brendan Murphy (also from Twilight Transmission). After forging an alliance with a reputable management team, the band quickly began to write and record tracks for Glory Bound.

But Revolution Mother simply couldn't lean on its hardcore–based roots. Hampton, the band's primary songwriter, moved forward and continued to write additional material, eventually penning and recording one of its most pivotal, poignant tracks, "Above The Crawl." The doomsday buzzsaw guitar leads and slamming snare intro instantaneously signaled the band's transition into its current, straightforward rock 'n' roll course.

"I was just thinking, this is it," says Hampton. "Fast songs are great. Slow songs are great. But there is something that grabs a hold of you when you can tap your foot and bob your head to it. For me, that is what draws me to a band." After recording nearly 20 tracks from which the band chose for its album, Glory Bound is a fine–tuned, carefully selected set, highlighting all facets of the incredibly diverse Revolution Mother songbook.

Revolution Mother also tightened its live set for the Vans Warped Tour, performing on its own stage – and garnering a few main stage opportunities – courtesy of the tour's founder and longtime skateboarding advocate Kevin Lyman. The act supported the release of Glory Bound on the entire 2007 installment, performing two sets each day for 45 cities. The tour brought about another significant change in the band, by further refining its direction. "I think the evolution of the band, the sound and what we're about as a band, that evolution definitely happened over the summer," says Vallely. "And it really came into focus what we're trying to accomplish. It's very simple. It's dropping all the previous ideas of what we're about and where we're coming from, getting past the genres and realizing that there's good music and there's bad music. There's genuine, heartfelt, real deal stuff and there's corporate, churned–out garbage. And it's as simple as that." "I think as far as the Warped Tour was concerned, it's mission accomplished," says Mike V. "I think we accomplished everything we set out to accomplish, which was to keep our heads down, play as hard as we could every day and have the most intense, aggressive sets of the day, no matter what." "I think we all kind of realized subconsciously – it wasn't something we dialogued too much about as a band – all summer, as I let the iPod play on shuffle, that you know bands like the Sex Pistols, aren't just punk rock. The Ramones, they're not just punk rock. Danzig is not metal. Metallica is not simply thrash and Bob Marley is not just Reggae. The good stuff rises above the genre and just becomes good music, straight up rock and roll. If you have to categorize it, fine. But the good stuff just becomes rock 'n' roll in the end. From Elvis to Dylan, The Beatles, Sabbath, The Clash, Fugazi, Nirvana –– to me it's all just rock 'n' roll. For us to have tapped into that and shaken off the influence and narrowness of the punk or hardcore genre has been very liberating. We're still a punk band in spirit but at the end of the day, we just really want to rock and roll."

The straightforward rock 'n' roll theme had to be signposted for Warped attendees. "For some reason, it seems like a lot of audiences need to be told what they're watching. So after the third song on our sets, I'd say, 'By the way, this is called rock 'n' roll,'" says Mike V. "It's crazy, but in the Warped Tour environment, there's a lot going on. It's so hard to know what you're supposed to like anymore because there's so much out there."

For example, Vallely would wear his denim jacket on stage in one hundred degree heat, simply because he felt like he needed to do anything to make his band stand out and be seen. "And then it just started feeling right – I couldn't go to the stage without it." The thing about us and our so–called 'gimmick' is that we can back it up," Vallely says. "Try us. We were given this golden opportunity to do the Warped Tour and you better believe we're going to use every resource available to us. It's a war out there."

"At the end of the day, you want to put on a show," he continues. "People want to see a show. We realized that there were certain factors that had to go down. It's showtime, it's gimmicky, but it's the real fucking deal. We're genuinely serious about what we're doing. We believe in it. It's the love of music, the love of making music and the love of sharing it with the audience. It's really simple."