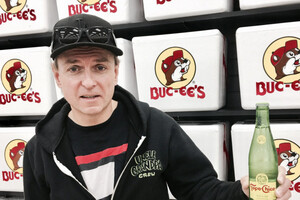 Rat-a-tat-tat, the new album by Dale Crover of Melvins is DARK. It has songs about dying when you're not ready to die. It has songs about busting up people trying to draw you into high school style drama bullshit. It has totally WHACKED out experimental tracks that sound like something out of Bowie's Low which were then assigned to a demented computer program. The black grime circulates throughout this bad boy. But, the weird thing is, Dale is a pretty happy-go-lucky kind of guy!
Dale has been drumming for the Melvins for almost 40 years now, and he is the boom-bapper of all boom-bappers. He brings the raw power of Bonham and the artsy-fartsy touch of Dennis Davis. So, on Rat-a-tat-tat, he merges his thunder-God smash with a decidedly creepy atmosphere.
To get to the bottom of this weird trip, Punknews' John Gentile spoke to Dale about the new album (out January 15 via Joyful Noise), how mix a cool record, and where the blackness comes from. You can check it out below.
Read more