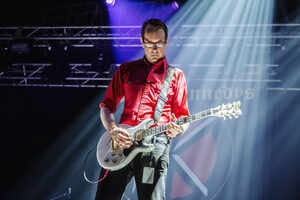 Those whirling, tumbling, whipping riffs that are charged by spaghetti westerns, surf rock, and psychedelic garage in equal parts- that's the sound of East Bay Ray, guitarist and founding member of Dead Kennedys. Through his reverent-meets-irreverence style, the man helped formed the skeleton of hardcore punk and shattered that structure in what seemed like a singular strike. As far as punk guitarists go (and guitarists in general), this guy is heavy duty.
Perhaps as a way to show that punk is an ever changing animal, Ray has dug through the DK archives and found three complete, unreleased live shows, which represent the Kennedys in different phases. Included in the set (out April 26 on Manifesto Records), is the famed Skateboard Party live show which exhibits the band at their most crazed, during the Plastic Surgery Disasters era. Yet, just as they mastered hardcore, they broke away from it and on the third disc, The Farm, the band is recorded during their more complex Frankenchrist era, which has almost no live documentation.
Now that the set is about to be released, Punknews' John Gentile spoke to Ray about the live shows, his history, and how to make a good set list.
Read more