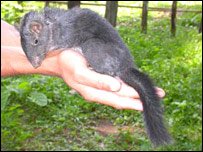 It's Sunday June 18th, 2006. It appears that the once thought extinct Laotian rock rat was discovered alive this week. This offers concrete proof that Ed "Big Daddy" Roth was both artist and geneticist, and I'm glad to see he was successful in bringing one of his creations to life before his passing. I'm sure this ugly customer has a monstrous little hot rod somewhere, but probably hid it when the photographers showed up.
Stories you were talking about this week
This week Alkaline Trio's Matt Skiba and F-Minus' Joe Steinbrick announced that their new project Heavens signed to Epitaph Records. Rancid continues to garner attention with their return to action, announcing two night stays in New York City, Detroit, Boston, Philadelphia and St. Louis. Poison The Well have parted ways with major label Atlantic Records and are joining a yet unidentified large indie. Details are few but it was confirmed that Whole Wheat Bread's Nick Largen was arrested, the band's continuing to play their scheduled dates however. Green Day continue to school the youth, this week teaching munitions awareness in the UK. This week offered more details on the upcoming Against Me! live album, saw the premier of Rise Against's new video, broke news on the debut LP from the Lawrence Arms' Chris McCaughan, and gave you a listen to a song from Strike Anywhere's Dead FM.
We recently spoke to Jade Puget about the new AFI record. We posted the first half of the interview this week, so check it out before part two hits. A contributor from South African also spoke with Lagwagon this week.
Current contests Win a trip to Cleveland for the Warped Tour
With the Warped Tour kicking off this week, it seemed appropriate to debut another big contest for the tour; this one is a biggie; a trip for two to Warped Tour 2006 August 11th at Tower City Amphitheatre in Cleveland, OH - plus accommodations and transportation to and from the show; a pair of tickets for the Rock'n'Roll Hall of Fame tour, a signed guitar, a video iPod, an annual subscription to Audio Lunchbox and a subscription to Alternative Press magazine.
Win Warped Tour passes from Scotch Greens Scotch Greens has been confirmed for the first month of the Warped Tour. The band will be touring on the heels of their debut release Professional, and to celebrate are giving away to passes to the summer tour.
Warped Tour Compilations
To celebrate the recent release of their 9th annual Warped Tour compilation, SideOneDummy has opted to give one lucky winner a full set of the entire compilation series.
Sonic Youth - Rather Ripped Sonic Youth have released what is being called their "most accomplished and mature album […] in years" and since a record from the band that brought us the classic Goo is a pretty big deal, we figured we should give away some stuff with them.
Thursday - 2GB iPod Nano, 25 CDs
To celebrate their recent full length, A City by the Light Divided, Island Records act Thursday would like you to participate in a special weekly contest with a draw every Thursday.
Win a 60GB iPod, more from Taking Back Sunday / Angels and Airwaves Taking Back Sunday and Angels and Airwaves are heading out on tour this summer in support of their respective new albums. To celebrate the bands are giving away a 60 GB iPod, $200 in iTunes Gift Certificates and much more.
Diversions
We've theorized that you visit other websites out there, and we know it can be tough to leave the calming blue glow of the `Org, so we'll help by infecting the rest of the Internets with Punknews content. Waste some time on the Punknews.org and Punknews Records MySpace pages or add your listening stats to our Last.fm group.
Come Join Us
Why register on Punknews.org? Registered users can now rate bands and reviews, building recommendations and links between artists for the whole community to share and discover. Of course as a registered user the "Nickname / Password" box will become a handy search tool and you can save your preferred settings for the comment sections. So go ahead, cast off the cloak of anonymity and create your account today - it's free, easy and private.