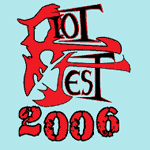 A number of high profile reunions and performances are taking place at this year's Riot Fest in Chicago.
Among the bands set to perform are hometown heroes Naked Raygun, as well as Blue Meanies, Bollweevils all of whom are reuniting for the fest. Other high profile acts set to appear include the Adicts, the Misfits, the Toasters, the Business, UK Subs and many more.
The show takes place on November 5th, and tickets go on sale in exactly ten days.
Naked Raygun
The Misfits
Blue Meanies
The Bollweevils
The Adicts
Mustard Plug
The Business
The Toasters
Osaka Popstar
U.K. Subs
Orange (100)
Deal's Gone Bad
Iattack
Fear City
The Gravetones
The Massacres
Juicehead