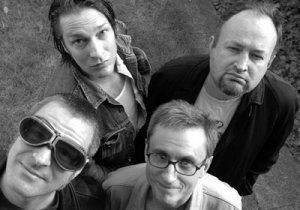 In an unexpected move, conservative prairie emo masters the G7 Welcoming Committee have released what seems to be a political punk album. Vancouver pioneers the Subhumans, having taken 20 years off for assorted leisure activities (like prison), are back with the hard hitting New Dark Age Parade. We're thrilled to bring you a full album stream of this classic Canadian punk band's comeback.
The record features the first time since 1982 that bassist Gerry Hannah, vocalist Brian Goble and guitarist Mike Graham have record together. They're joined on this recording by drummer Jon Card, veteran of SNFU and D.O.A.. The album hits stores this week in via the G7 in Canuckistan and elsewhere on Alternative Tentacles.
You can check out the stream on the band's Punknews.org Profile.