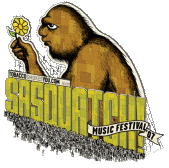 The lineup has been announced for the 2007 Sasquatch Music Festival. The music festival is held annually at the Gorge Amphitheatre in George, Washington and began in 2002.
The 2007 roster includes Beastie Boys, Bad Brains, Interpol, Michael Franti and Spearhead, Spoon, The Hold Steady, Two Gallants, The Thermals, Minus The Bear and many more.
The fest also recently announced that the event this year will be certified carbon neutral by Sustainable Energy Partners. Saquatch will purchase energy credits to completely offset the polution caused by the event, so while they will emit Carbon Dioxide, they will ensure that an equal amount is removed from somewhere else.
Saturday:
Bjork
The Arcade Fire
Manu Chao and Radio Bemba Sound System
M.I.A.
Citizen Cope
Neko Case
The Hold Steady
Ghostland Observatory
Grizzly Bear
Electrelane
Two Gallants
Loney, Dear
The Slip
The Thermals
The Blow
Aqueduct
Viva Voce
Gabriel Teodros
Sunday:
Beastie Boys
Interpol
Michael Franti & Spearhead
Spoon
Ozomatli
Bad Brains
The Dandy Warhols
The Black Angels
Tokyo Police Club
Money Mark
Mirah
St. Vincent
Jesse Sykes & The Sweet Hereafter
Common Market
Smoosh
The Helio Sequence
Minus The Bear