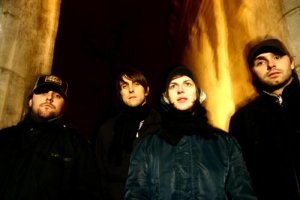 Canadian pop-punk act Fifth Hour Hero has decided to end their run together as a group. Quebec's premier quartet released a collection of albums via No Idea Records, including last year's Not Revenge…Just a Vicious Crush. In a lengthy statement to Punknews.org, bassist Mathieu Guilbault explained the band's decision:

Before we let the negative thoughts destroy all the best memories of being in Fifth Hour Hero, we decided to stop. We don't want money and the bad luck we went through killing our friendship and make Fifth Hour Hero become something it was never meant to be. That's truly why we're going to bury Fifth Hour Hero in June.
The band will complete its final US dates with Smoke or Fire before heading back to Canada for a few last shows with the Sainte Catherines.
We started this band because we loved punk rock and the community that surrounds it. We played tons of basements, living rooms, small clubs, big clubs, all ages venues, squats and festivals. We toured with small bands, we toured with bigger bands, and we went to Europe, Japan and to the U.S. many times. It was unbelievably fun. We met a lot of amazing people. We lived unforgettable experiences.

On the other side, to live these great experiences we made difficult compromises. Every time we left for a tour or to record we would quit our jobs, borrow money from the bank, from the label, from our families, leave home for months on end, we put every cents we had in doing new merch, fixing the van, getting our amps repaired, etcâ?¦ It was never really easy but we chose to live this way. All these compromises gave us the opportunity to live some amazing experiences with the band.

But, weâ??ve been going through that kind of stuff for the last seven years. Itâ??s common for people in bands to deal with this, but I donâ??t know a lot of bands that stuck around for that long with the popularity and support we had. A lot of the bands we met along the way got deals from bigger labels. They got tour support, sponsorships, royalties, etc. We never really seriously looked for that and no one did it for us. The business side of being in a band never charmed us. Some people will admire us for that and some people will tell us we shouldâ??ve gotten our shit together. I donâ??t think there is a right or wrong, itâ??s just how we are. We were never doing it for the money and we never made any money with this band. We were just happy to live new experiences and to travel the world.

Through the years things changed and it became a lot harder for each one of us not to think about the negative aspects of that lifestyle. I mean, want it or not, you can have the highest score at the punk cred game, you still need money to eat, pay your bills or to buy your BORN AGAINST records. We need money to survive as people and as a band. We could keep on getting shitty jobs when we come back from tours, lie to our bosses all the time before going on tour, borrow money from everybody or every financial institution, but we wouldnâ??t be happy and music wouldnâ??t be something fun to us anymore. We always wanted the music to be fun, not a pain in the ass.

Recently, for most of us, it felt like we needed some major changes. Some of us were not stimulated with the music we were playing, some of us didnâ??t feel like practicing anymore, there was definitely a lack of enthusiasm in the band. The dark side of being in FIFTH HOUR HERO was overcoming all the positive things about being in this band. Before we let the negative thoughts destroy all the best memories of being in FIFTH HOUR HERO, we decided to stop. We donâ??t want money and the bad lucks we went through killing our friendship and make FIFTH HOUR HERO become something it was never meant to be. Thatâ??s truly why weâ??re going to bury FIFTH HOUR HERO in June.

Until then we will do one last U.S. tour with SMOKE OR FIRE and TIM BARRY in April and a few weekends in Canada with our good friends THE SAINTE CATHERINES in may and June. A big thank you to our friends and our families for their unbelievable support. Thank you. Enjoy life, make it fun!

All of us are still playing music in different projects.