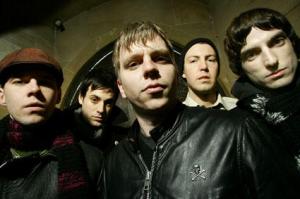 Long running and oft-troubled Brooklyn by way of Boston act the Explosion have called it a day. In a MySpace blog posted today, the band offered no explanation, simply saying thank you to their fans.
The band had recently seen ups and downs after joining Virgin a few years ago and parting ways with them in February. The band is still hoping for a release of Bury Me Standing on "some label or another." They expect to do some farewell shows this summer. Recently Chris and Dave have been filling in with the Loved Ones on tour.
The band released their self titled debut EP in 2000 on Jade Tree along with their Flash Flash Flash LP. In 2003, they returned with the Sick Of Modern Art EP, followed by their Red Tape EP in 2005 and Black Tape LP in 2004.