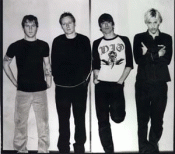 According to NME, the Foo Fighters will be celebrating the 10th anniversary of their beloved 1997 full length, The Colour and the Shape with an expanded special edition.
Released in May 1997, the record remains a fan favorite and includes fan favorites like "My Hero," "Everlong," "Walking After You" and "Monkey Wrench." According to the report, the record will feature a selection of B-sides and cover tracks and the disc is due out June 25th, 2007.
Your correspondent still has an autographed copy of the record with "Love, Dave" written on it from the 1997 tour. Feel free to make fun of him.