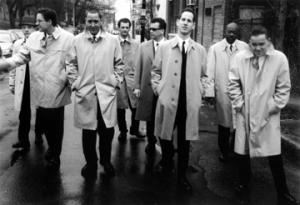 As several astute readers pointed out, in their recent interview and performance on Alternative Press's AP Show, Big D and the Kids Table let slip that Boston ska-core pioneers the Mighty Mighty Bosstones may be reuniting this winter for a series of five shows reminiscent of their "Hometown Throwdown" events from years past. Donning our investigative hats, we contacted Nate Albert, original guitarist for the Bosstones. Albert had the following to say:

I cannot confirm nor can I deny any such rumor.
Not quite the "yes" or "no" that we were expecting.
Punknews.org also contacted the guitarist for Big D, Sean P Rogan, who expressed his interest in the Bosstones getting back together, but could also not confirm said rumor at this time, quite a different tune than he and his bandmates were singing during their interview with former Org staffer and current AP Music Editor Scott Heisel.
We'll keep our fingers crossed and update you all if and when we get more info.
Since going their separate ways in 2003, members from the Bosstones have been keeping busy. Joe Gittleman had his band Avoid One Thing, which took a break in 2005 while Albert's Kickovers had a handful of releases before starting his dub project Cry Tuff Council. Chris Rhodes found touring partners in Less Than Jake and the Toasters while Lawrence Katz has been playing solo.For the astute, you can hear Chuck Ragan thank him for opening in the midst of Los Feliz. Drummer Joe Sirois has sat behind the kit for everyone from Frank Black to the Street Dogs since the hiatus, although he currently appears to be taking a break. Frontman Dicky Barret has taken his trademark gravel-filled voice and used it to procure shifts as announcer for Jimmy Kimmel and at 103.1 out of Los Angeles.
The band has had a bit of activity this year, posting unreleased, rare and other assorted tracks via their new MySpace page run by bass fiddleman Joe Gittleman.
Please note that Punknews.org is not in the business of reporting rumors. In this instance we felt clarification was needed by all, especially in order to stop one of us from convulsing in joy.