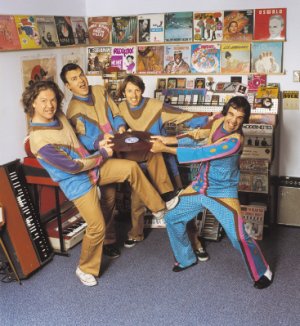 Vancouver's The Evaporators, the musical outlet for Canuck college radio legend and celebrity interviewer Nardwuar the Human Serviette, will release their new record Gassy Jack and Other Tales on November 6th via Mint Records. It follows up 2004's Mint / Alternative Tentacles release Ripple Rock. The Evaporators features Nardwuar on vocals and organ, bassist John Collins of the New Pornographers, guitarist David Carswell of the Smugglers, drummer Scott Livingstone and bassist Stephen Hamm of Slow.
The new record is now streaming in its entirety via MySpace.
The band will support the release with a release party at the SUB Ballroom at UCB in Vancouver on November 2nd. A show will follow on the 3rd at Vancouver's Jamaican Jerkhouse with Vincat and Final Verdict.
Where's the Butterknife?
You Got Me into This, Now You Get Me Out!
Gassy Jack
E.J. Hughes
Shakin' withe the Shaggy Shaker
Do the Eggbeater
What if I Care about The People who live in the Seas around Me?
Float Plane
Tellin' Youth the Truth
Evatone Sound Sheets
Desolation Sound
Sasquatch and Me ate Berries for Free
Crispy Space Bacon
St. Roch
Interview : Nardwuar vs Kortney