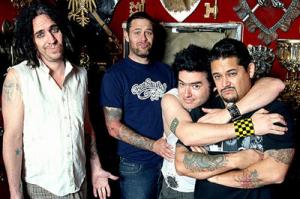 You're the lucky reader of the 15th edition of the Punknews.org Vinyl File. This column aims to keep you informed with upcoming releases as well as spotlighting interesting releases, your favorite band's own collections and labels with an history of vinyl releases worth talking about. As always, Vinyl File is brought to you by Ben Conoley.
This week's Vinyl File continues to spotlight the extensive catalog of NOFX vinyl. We're going to be looking at their vinyl releases from 1992 through to the end of the 21st century. We will be wrapping the series up next week with a special on their 7" of the month club to follow. We also have vinyl news from Bomb the Music Industry!, Fat Wreck Chords and Arcade Fire.
Click Read More for the full article.
VINYL FILE SPOTLIGHT
This week we continue with our look at NOFX vinyl with the second installment, which will be covering the middle seven years of the band's prolific career. We start with 1992's 12" EP, The Longest Line. The album, which is slated to be repressed as part of Fat's Classic Albums series was originally pressed on both black/purplish grey as well as regular black. The colored versions are long gone, but black is still available. It is rumored that there is a second black pressing, but that has not been confirmed.
Another 1992 release from the band was the 7" Liza and Louise. The only pressing included black which is still available as well as 10,000 marbled pink and 5,000 dark pink copies.
The final release from NOFX in 1992 was their acclaimed full-length White Trash, Two Heebs and a Bean. Released by Epitaph, it was only pressed on black vinyl and is currently out of print.
Punk in Drublic was released in 1994 and propelled NOFX into further punk stardom - as much as that term seems to contradict itself. Again, the album was released on Epitaph on black vinyl and is out of print. Not too long ago an RIAA Gold Record award (which, of course was a gold copy of the vinyl) was put up on Ebay and sold for $525.00.
NOFX released the Don't Call Me White 7" a month later. About 1,500 copies were released on white vinyl, which featured the b-side 'Punk Guy.' It was released through Fat Wreck Chords and is out of print.
In August of 1995 the band put out the live album, I Heard They Suck Live. Released through Fat Wreck Chords on black vinyl, it is still available.
'Leave it Alone' received the single treatment in 1995 as the title track for a 10". It was available as both a picture disc and on black vinyl. It was handled by Epitaph Record, and like most of the released taken care of by the label there is not much information available on pressing numbers.
Finally, 1995 was also the release year for HOFX. The 12" single featured the songs 'Drugs Are Good' and 'We Ain't Shit.' Fat Wreck Chords released 8,300 copies of the record with 1,000 being picture discs and the remaining being various colored splatters.
Continuing on, NOFX released another full-length in January of 1996. Heavy Petting Zoo was released by Epitaph and, you guessed it, an unknown number of copies were pressed on black vinyl. A closer look reveals that the vinyl version of the album was titled Eating Lamb.
In August of the same year, Fat Wreck released Fuck the Kids. The 7" featured 13 songs including the title track as well as staples such as 'Murder the Government' and 'I'm Telling Tim.' Over 35,000 copies of the black version have been printed and are still available, while 500 were printed on green vinyl.
NOFX's only release in 1997 was So Long and thanks for All the Shoes. The Epitaph release is out of print and was printed on black vinyl with European copies featuring the label's European office address on the rear.
1998 saw the release of the now out of print 7" for 'All of Me.' It is backed with 'The Desperation's Gone' and was printed on both dark green and aqua with about 8,000 in existence (Fat says there are 8,029, but they are labeled /8,000.)
NOFX released a series of single in 199 beginning with Timmy the Turtle, which contained 'The Plan' on side-B. It was printed on green vinyl and is limited to 9,499 according to the back of the sleeve, but 9,537 according to Fat. That was followed by Louise and Liza, the appropriately titled follow-up to Liza and Louise. It is out of print and available on an unknown number of purple records with carious shades. Finally, 199 saw the release of The Decline. The single features the epic title-track on the A-side with 'Clams Have Feelings Too' on the B-side. The black version of the record is still in print, while the 155 copies printed on clear sell for upwards of $400 on Ebay.
For more info on NOFX vinyl, and the source for most of my info, head over to NOFX Wiki.
THE PUNKNEWS.ORG VINYL FILE
The tragic passing of Lance Hahn led to some vinyl hustle and bustle over the last week as Fat Wreck Chords announced they were selling 20 autographed yellow copies of NOFX's Wolves in Wolves' Clothing. The records sold for $100 each with all proceeds going to help pay for Lance's bills and funeral arrangements. Despite the hefty price tag, it wasn't long before all copies were snatched up. Kudos need to be given to Jeff Wegner, for selflessly donating the records.
In other Fat news, the label has announced the third installment of Me First and the Gimme Gimmes's Square Dance series. Willie will be released on December 11 and will feature the songs 'On the Road Again' and 'City of New Orleans.' While Dolly has sold out in both square and round versions, Cash is now available for pre-order from various websites (round, red version only). Furthermore, The Longest Line from NOFX will be repressed on white vinyl and will be going on sale on November 6 at 11:00 AM PST. It is going to be limited to 1,082.
The Playing Favorites, featuring Joey Cape of Lagwagon and Bad Astronaut has their debut album ready to go. I Remember When I Was Pretty is going to be released through Vinyl Collective. Pre-orders are already up with colors available. They come in pink/blue color within a color (/150), pink/blue split (/250) and blue with white speckles (/600). A limited number of all three are also available with one copy autographed by the entire band.
More confusion seems to be abound regarding the recent availability of Brand New's Deja Entendu/ While Triple Crown continues to insist that they are original pressings, it seems as though that may not be the case since they are available on Interpunk. Meanwhile, Merch Direct employees have stated that it is indeed a repress. Looks like people who bought 13 copies in hopes of landing on Ebay gold are out of luck.
Asian Man Records has announced that they will be pressing some more copies of Bomb the Music Industry's latest album, Get Warmer. The new pressing will be on clear vinyl with white splatter and will be limited to 300 copies.
For those who missed our post from earlier this week, Wired magazine has posted an interesting article on vinyl. You can read it here. For further reading, Virgil Dickerson from Vinyl Collective has posted a response that can be read here.
Chicago-based distro center, Redline Distribution has has announced that they are closing shop. However, before the closure is complete they will be liquidating what they have left of their inventory. To take advantage of some inexpensive items, head over here.
While it was originally only supposed to be available on their tour together, the split 7" between Arcade Fire and LCD Soundsystem is available from the Arcade Fire webstore. Leftovers can be found here.
Haunted Town Records have announced that they are re-releasing some of Naked Raygun's back catalog. They are starting with the band's 1983 debut Basement Screams. The re-release comes on three colors of vinyl and comes complete with the bands 1982-1983 demos. Each copy is hand numbered 140G vinyl. The color breakdown goes as follows: 550 blue/black splatter, 350 solid purple, 250 clear. You can order the record here.
The Misfits are in the news this week with a re-issue of Wolfsville and Evillive. The Polish import is limited to 5,000 and is being released by Children of the Night Records.
Asbestos Records have announced some news regarding their recent Bomb the Music Industry! releases. First up is a repress of To Leave or Die in Long Island. The new press will include pink/black split vinyl as well as pink/blue swirl. Secondly, the label will be repressing the already sold out split between BTMI! and O Pioneers!!!. The second pressing will be on "mystery splatter" the colors of which even the label is unaware of.
If there is anything you would like to see covered in Vinyl File, email ben (at) punknews (dot) org.