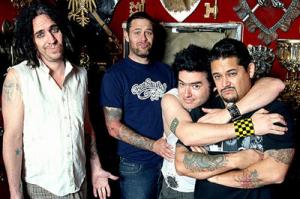 You're the lucky reader of the 16th edition of the Punknews.org Vinyl File. This column aims to keep you informed with upcoming releases as well as spotlighting interesting releases, your favorite band's own collections and labels with an history of vinyl releases worth talking about. As always, Vinyl File is brought to you by Ben Conoley.
This week's Vinyl File is the last in our efforts to spotlight the extensive catalog of NOFX vinyl. While we're going to get to their 7" of the month club next week, we are wrapping up with the rest of their catalog now. We're going to be looking at their vinyl releases from 2000–yesterday. We also have vinyl news from Propagandhi, Coliseum, New Found Glory and more.
Click Read More for the full article.
VINYL FILE SPOTLIGHT
This week we bring you the last of our spotlight on NOFX. Stay tuned, though as we plan on running interviews with some serious collectors of the band as well as the fine folks over at Fat Wreck Chords.
As a teaser for an upcoming full-length (at least for North American fans), Fat Wreck Chord released Pods and Gods as a 7" single backed with 'What's the Matter With Parents Today?' 12,049 copies were pressed on orange vinyl and while it is our of print, it's still pretty easy to come across.
While it was available in Europe for a few weeks prior, North American fans received another full-length from the band in June. Pump up the Valuum All copies were pressed on marble blue vinyl. although plans originally called for it to be on clear blue. The US version is out of print, but the European pressing is still available. As with most of their Epitaph releases, there is no information on pressing numbers available. The European and American versions can be told apart by the shades of blue with Europe's being a little darker than its American counterpart. The band's single for 'Bottles to the Ground' was never pressed on vinyl.
In April 2001 the band released another 7" loaded with short songs. Surfer, whose cover art and name was a play on Bad Religion's Suffer was pressed on both black and blue vinyl. The blue was limited to 508 and is long gone, although the black is still available new.
During that year Fat Wreck Chords started their first 7" of the month club (we'll have more on that some other week). NOFX's contribution came in September and included the songs 'Zyclone B. Bathouse' and 'Spaghetti Motel (Theme for a Spanish TV Show)'. It came on clear olive vinyl and like the rest of the club was limited to 1,300 copies.
In 2002 Fat Wreck Chords released a collection of b-sides and rarities called 22 Songs that Weren't Good Enough to Go on Our Other Records. While the CD had 46 tracks, the double-LP was limited to 22. The vinyl version includes the first disc and leaves out the second which included most of the Surfer and Fuck the Kids 7"s. It was printed as a limited edition of 220 colred copies, while the black is still in print.
NOFX continued to release teaser EPs before their full-lengths with 2003's Regaining Unconsciousness. The 7" features three songs - 'Idiots are Taking Over' 'Franco Un-American' and 'Hardcore '84,' two less than the CD version. It has only received one pressing of 10,237 grey copies, some of which are marbled and some of which are flat. It is still available, but expect it to go out of print before too long.
Later that spring the band released The War on Errorism. Released on Fat Wreck Chords, the first 1,073 copies were on white vinyl (some with red and/or blue streaks) with all subsequent copies on black. It is still in print.
Two months later the band released Thirteen Stitches which originally featured an acoustic version of the title-track as well as 'Glass War' on the b-side. 7,179 yellow (or snot brown) copies were pressed and it is now out of print. The back of the cover, however, says it is limited to 7,000.
In 2005 NOFX began their 7" of the month club. Consisting of 12 7" records it would take entirely too much space to cover here, so we'll be detailing it next week. Stay tuned!
The latest full-length from NOFX was 2007's Wolves in Wolves' Clothing. Released in April of that year it was available for a limited time on yellow vinyl. After those 1,062 were gone, the rest have been printed on black. The yellow copies are actually a mix of yellow, green and orange with varying degrees of dominance from each color from record to record. There are also a few copies that are completely orange.
Just this week Fat Wreck Chords re-released The Longest Line on white vinyl. 1,082 copies were made available and sold out yesterday.
On November 20th, NOFX will release their second live album, They've Actually Gotten Worse Live, as a double LP.
THE PUNKNEWS.ORG VINYL FILE
Tour news this week starts with Asian Man's announcement that they are selling off a large number of test presses from their catalog. It's being done on Ebay, so you can expect prices to go pretty high. Things should be wrapping up in a few hours, so with any luck you'll be just in time to nab that Halloween 7".
Hyperrealist has announced that pre-orders for records by both Baroness and Skeleton Witch will be up sometime this week with records to ship shortly.
Underground Communiqué is shipping pink and green copies of Black Cross' Severance Pays. Get 'em while they're hot!
We're still waiting on copies of those Heavens Patent Pending records, but if you haven't ordered one yet (or even if you have) you can get one for free by entering a contest over at the Number Nine Studios MySpace page. Josiah Steinbrick, who composed the music on the album says

Ok, here's the deal. I want to fill the top friends section with people who enjoy Heavens in a sort of creative way. My idea is that you have to take a plain white t shirt and make your own Heavens design. You can use spray paint, markers, puff paint etc. as long as it's done by hand. The only requirement is that it says "Heavens" in somewhat large letters. It can be as grandiose or minimal as you like, there's no panel of judges. A shirt that just said "I ENTERED THE HEAVENS SHIRT DESIGN CONTEST AND ALL I GOT WAS THIS LOUSY SHIRT" would be good but I kind of set it up for you. Lastly you would need to take a photo with your shirt on and send a message with "SHIRT" in the subject. You will need to add your login email to the message so I can put you in the top friends section. If you make it to the top 8 section you get a free copy of the "Patent Pending" vinyl…if you already ordered one you can sell your extra copy on ebay or give it to a friend. These copies of the vinyl will be #s 990-997 and will have "Shart" written on them, short for "Shirt Art". Just kidding, they will just say Shirt Art. It would be great to fill all 40 spots. Let's do this.
Jimmy Eat World have released a 7" for 'Big Casino' off their latest album Chase This LIght. The UK import comes in two different versions, the first containing the non-album track 'Beautiful Is" with the second containing the non-album track 'Open Bar Reception.'
Fans of Matt Pond PA can rejoice. Polyvinyl has released both 2002's The Nature of Maps and that same year's Green Fury on vinyl, both for the first time.
Pre-orders are being taken at Magic Bullet Records for the new self-titled 2xLP from This Will Destroy You. You can get it on red, white and blue vinyl.
New Found Glory will be releasing a three song 7" on Bridge Nine. The band plans to make the record available at show as well as online.
A second pressing of Coliseum's No salvation. The new pressing is limited to 500 on vinyl the labels describes as "red center and black & white outer ring." You can get it here.
Fat Wreck Chords put their latest vinyl releases up for sale yesterday. If you managed to nab a copy of NOFX's The Longest Line as well as the latest Me First and the Gimme Gimmes's 7" Cash you're extremely lucky. They sold out in less than 24 hours. Cash is limited to 1,098 on square-shaped vinyl and is available only from Fat Wreck while red copies limited to 1,910 are available from retail stores and online distro sites. The Longest Line, meanwhile is limited to 1,082 copies on white vinyl
War Hungry have a new 7" available through 1917 Records. People who purchase the album can immediately download MP3s of the songs
Havoc Records have announced a big 'ol sale. For the rest of the month you can get a number of their 7" releases for only $1.00.
While we're all still waiting for more news on the Isis box set, Mike Gallagher of said band now has a new record under the name MGR. The record is now available for pre-order from Magic Bullet. 150 copies are on orange/red vinyl while 350 are on black.
Asbestos Records have announced some news regarding their recent Bomb the Music Industry! releases. First up is a repress of To Leave or Die in Long Island. The new press will include pink/black split vinyl as well as pink/blue swirl. Secondly, the label will be repressing the already sold out split between BTMI! and O Pioneers!!!. The second pressing will be on "mystery splatter" the colors of which even the label is unaware of.
Fat Wreck Chords have announced that the third album in their popular Classic Colored Vinyl Series will be Propagandhi's 1993 album How to Clean Everything. The repress will be available on yellow vinyl.
If you have something you would like to see included in Vinyl File, drop us an email at ben (at) punknews (dot) com.