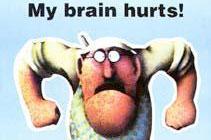 In his latest podcast, Ben Weasel has confimed that he will be reuniting with his Screeching Weasel (and current Methadone) Dan Vapid to play their beloved 1991 album My Brain Hurts in its entirety.
The show will take place on Friday, August 22 at Reggie's Rock Club in Chicago and will feature support from The Jetty Boys, The Chinese Telephones and The Repellents.
Tickets go on sale tomorrow. Ben is promising that if the show sells out, they will add another show.