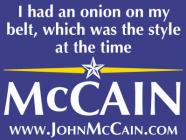 The Foo Fighters are the latest artists to criticize presidential hopeful John McCain for unauthorized use of one of their songs. The band issued the following statement:

This isn't the first time the McCain campaign has used a song without making any attempt to get approval or permission from the artist. It's frustrating and infuriating that someone who claims to speak for the American people would repeatedly show such little respect for creativity and intellectual property. The saddest thing about this is that 'My Hero' was written as a celebration of the common man and his extraordinary potential. To have it appropriated without our knowledge and used in a manner that perverts the original sentiment of the lyric just tarnishes the song.
This is the latest in a string of angry artists who have seen their work used without permission. Others include rock group Heart, who were frustrated with the campaign's use of "Barracuda," songwriter Jackson Browne filed a lawsuit against their use of one of his songs, and Van Halen saw their song used to which they responded, tersely: "permission was not sought or granted nor would it have been given."
The other presidential major candidate, Barack Obama, has instead seen artists not just provide support, but flock to arrange benefit performances for him; artists like Fall Out Boy, Bruce Springsteen, Billy Joel, Jon Bon Jovi, the Grateful Dead, and many others.