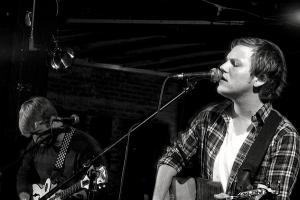 Today, we've got another exclusive for you. We are giving away the entirety of one of the new EPs from Louisville, Kentucky's Mansions. On record, Mansions is Christopher Browder. Live, Andrew MacGregor plays guitar and Salvatore Cassato plays Drums. The band is often described in terms of early 90s emo and previously released Mansions via Doghouse. Our review had this to say about that self-titled EP:

Producer Mike Sapone gives the EP his wonderful, signature finish, with drastic dynamics in distortion and atmosphere -- so much to the point that towards the end of "Take It Back" and for much of closer "The Biggest Lie" (full of vague muttering and then a sincere acoustic finish), Mansions noticeably resemble post-Your Favourite Weapon Brand New. That's hardly a pitiful plane to be put on, colorful company that promises Mansions to write some really incredible songs down the line.
You can download the new EP as a zip file via this link.