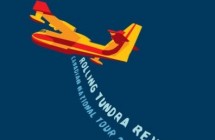 As it went unsaid during our original announcement we'd like to note that the upcoming Weakerthans tour is in fact a return of the Rolling Tundra Revue.
The cross Canada trek, which will be co-headlined by the Constantines, is resurrecting the brand the pairing previously applied to their 2005 tour. That tour saw the groups supporting their respective 2003 albums Reconstruction Site and Shine a Light. It also notably featured the Weakerthans performing as a six piece with members of the Fembots filling out their ranks. This writer fondly remembers a Toronto encore on the tour that saw members of the Weakerthans, Constantines, Fembots and Andre Ethier of the Deadly Snakes together on stage performing a life-affirming cover of the Traveling Wilburys "End Of The Line."
The Weakerthans are now supporting 2007's Reunion Tour while the Cons are working their recent record Kensington Heights. The Revue kicks off in March in St. Johns, Newfoundland and wraps in Whitehorse, Yukon in early May. You can view a poster for the tour over at Facebook.
| | | |
| --- | --- | --- |
| March 19, 2009 | St. Johns | Club One |
| March 20, 2009 | Halifax | The Palace |
| March 22, 2009 | Sackville | George's Roadhouse |
| March 23, 2009 | Fredericton | UNB Ballroom |
| March 25, 2009 | Quebec City | Le Cercle |
| March 26, 2009 | Montreal | Le National |
| March 28, 2009 | Ottawa | Bronson Centre |
| April 1, 2009 | Toronto | The Phoenix |
| April 3, 2009 | London | Music Hall |
| April 4, 2009 | Guelph | River Run Centre |
| April 17, 2009 | Winnipeg | Burton Cummings Theatre |
| April 21, 2009 | Regina | Riddell Centre |
| April 22, 2009 | Saskatoon | Odeon Events Centre |
| April 23, 2009 | Edmonton | Winspear Centre |
| April 25, 2009 | Calgary | MacEwan Hall |
| April 26, 2009 | Banff | Wild Bill's |
| April 27, 2009 | Kelowna | Kelowna Community Theatre |
| April 30, 2009 | Victoria | Element |
| May 1, 2009 | Vancouver | The Commodore |
| May 2, 2009 | Vancouver | The Commodore |
| May 4, 2009 | Whitehorse | Yukon Arts Centre |