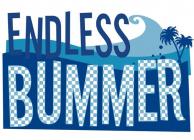 A stream has been posted for the soundtrack to Endless Bummer, the new National Lampoon movie produced by the Warped Tour's Kevin Lyman. Lyman serves as executive producer/co-writer of the movie, The flick is based on the real-life experiences of screenwriter John "J.D." Drury and the early 1980s-era story follows a group of Ventura, Calif., beach buddies who are in search of a stolen surfboard.
Participants on the soundtrack include Mark Hoppus and Travis Barker of Blink 182 and Plus 44, The Aggrolites, Circle Jerks, Joan Jett and the Blackhearts, the Briggs, Fear, Pennywise, The Dollyrots, The Action Design and others. Barker and Hoppus cover the Adolescents' classic "Amoeba."
Check out the stream here.