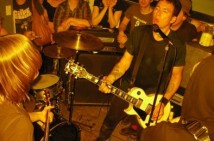 The report is in that Thorns of Life have officially broken up.
The incredibly short-lived and much-buzzed about act was the new musical project for former Jawbreaker and Jets to Brazil frontman Blake Schwarzenbach. The lineup was filled out by former Gr'ups bassist / The L Word co-star Daniela Sea and Bay Area figurehead Aaron Cometbus (ex-Crimpshrine / current Pinhead Gunpowder). The trio played a handful of shows, including a brief west coast tour.
Rumors have also circulated that the band had recorded a full-length, Legislators and Prophets, with noted producer J. Robbins. However, one source reports that sessions with Robbins did not go smoothly, while Schwarzenbach promises flatly on his Facebook page that "there is no thorns album… it never got recorded."
Schwarzenbach has, however, already launched his new project: forgetters, properly typeset as is. The band apparently includes former Against Me! drummer Kevin Mahon, as well as bassist Caroline (no last name given), and played their first show last night in Crown Heights, a neighborhood in central Brooklyn.