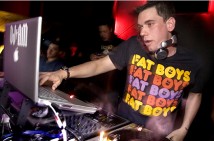 Adam Goldstein, popularly known as DJ AM, was found dead in his New York City apartment Friday evening.
The 36-year-old Goldstein was found shirtless and wearing sweatpants with a crackpipe in the near vicinity. While an investigation is still ongoing, Goldstein had apparently been battling drug addiction and depression for some time, though shortly before his death he claimed to have been drug-free "for years."
Goldstein was a close friend and frequent collaborator with Blink-182 drummer Travis Barker. The two made headlines last year after surviving a plane crash that killed four other people.
Punknews.org sends its condolences to Goldstein's family, friends and fans.