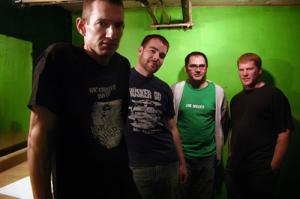 Our stream today comes from Chicago, IL-based The Bomb. Some details about the record from No Idea Records:

They have been in countless Chicago bands, and continue to split their time with several noteworthy, exceptional bands, including Naked Raygun, The Methadones and Four Star Alarm. As if it could get any better, the album was recorded by J. Robbins, who also makes appearances on various songs. He really brought out the best in the band and songs, amplifying and directing, especially in the vocal harmonies and melodies. Pezzati turned in vocals on the last Paint It Black album, and Dan Yemin returns the favor here. Bob Nanna (Braid, Hey Mercedes) also lends his inimitable pipes to the mix.
We've got a stream of the band's new full length, Speed Is Everything.
You can check it out on their Punknews.org Profile