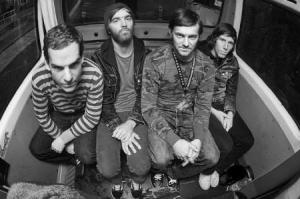 In their seventh-year running, Ghent, Belgium's Rise and Fall have garnered a reputation as one of hardcore's most brutal bands. After releasing 2005's Into Oblivion on Deathwish Inc., and countless tours, the band hunkered down in various locales around Belgium to write their forthcoming LP, Our Circle Is Vicious. Produced by Converge's Kurt Ballou, the LP, out October 27th on Deathwish, Inc., delivers a punishing dose of truth as only Rise And Fall can tell it. Sean Jain spoke with singer, Bjorn Dossche to get the lowdown on the new record as well as Rise And Fall's upcoming U.S. tour.
You guys are gearing up to release your second full-length for Deathwish Inc., what can people expect?
People can expect a ton of riff-age and a heavier and more dynamic Rise And Fall all around.
How did the process of writing and recording go this time around?
Writing this album took us close to forever. We're kind of slow at writing songs to begin with but the fact that we hardly wrote anything during the two years that followed the release of our previous album, Into Oblivion, explains a lot too. After that, it was a lot of trial and error. Nothing came easy. We had to dig deep in order to write songs that were challenging and satisfying to us. We originally were going to record in the autumn of 2007 but eventually were only ready to record in the spring of 2009. By that time we had ideas for around 20 songs, some of which never got finished, but the basic ideas were there. We recorded some demos at different studios in Belgium, before making a final selection and heading out to Salem, MA to record with Kurt, the sonic wizard. We recorded 12 songs but some of them didn't make it on the album 'cause we weren't too fond of them anymore by the time we finished recording. Kurt was great though; with anyone else at the helm I doubt we would have been able to finish the record. He got the most out of what we brought in and had a lot of good ideas and advice. He's a smart man. The only thing I regret is not dragging him into the recording booth to shred a solo.
Lyrically, are there any consistent themes being explored with this release?
The title of the record pretty much sums up the consistent themes that one can find in the lyrics.
What's your favorite song on the album, or is there a song that particularly sticks out in your mind?
I guess it's pretty obvious that I'm into the album as a whole, but if I had to pick one song in particular, I'd say "Harm's Way" sticks out because I struggled with that song for a while. I found it hard to place my lyrics on the song, but Vince helped me out…he wrote part of the lyrics and we had a late night session in my living room where we listened to the song over and over and whispered the lyrics in different phrasings. In the end, when all falls into place, a song like that is really satisfying.
This is your second release with Kurt Ballou at the helm, how did you guys originally hook up with him?
We got to know Kurt by touring and playing shows with Converge. Simple as that. While Into Oblivion was recorded in Belgium and mixed by Kurt, we felt like we could have a better and heavier sounding record if we actually recorded with him too. Here's hoping that we were right…
In the lead-up to Our Circle Is Vicious, you expressed a desire to go in a little bit of a different direction…what inspired this?
Well obviously we didn't want to write the same record twice. I think it's fair to say that we progressed a lot in the time between our first and second album, so we wanted this third album to show that progression and ambition. When you think about the fact that Into Oblivion was recorded in the summer of 2005, it's only logical to conclude that with the passing of that much time, we have been exposed to more music, have played a ton of shows, and had so much more happening in our lives. In a way, we simply are not the same band that we were back then. It wasn't even something we had to force or plan out, the music and lyrics we wrote were just different. What came out, came out, so we decided to roll with it.
Did you guys go through some lineup changes while recording Our Circle is Vicious?
Not during the actual recording, but shortly after we parted ways with our drummer J.P.
Our Circle is Vicious is being released on October 27, yet your official release party is November 28th in your hometown of Ghent, Belgium. Are you planning anything special for October 27th show in Romeo, Michigan?
Good question. I hadn't even thought of that until you brought it up. I'm hoping Deathwish can provide some Rise And Fall balloons? We basically wanted the release show for Our Circle Is Vicious to be in our hometown, and closer to the actual release date, but that wasn't so easy with the touring schedule we had lined up for the rest of the year. So we settled on having the release show on November 28th, our first show in Ghent since March 2008, the last show of our European tour with Iron Age. I'm excited.
You guys are gearing up for another U.S. tour, any big differences you guys find between touring the U.S. versus touring Europe?
The classic differences would be how in Europe you get fed at every show, sleeping arrangements are usually made for you, and bands usually play more real venues and youth centers. There's a lot of pasta and the kids are usually a little more reserved. Touring the U.S. is a bit more of an adventure; the kids are a little younger on average and a little wilder too. Plus you guys have In-N-Out Burger on the west coast. We love both continents however.
Our Circle Is Vicious isn't officially released until October 27th, but are you guys going to be selling the CD or LP on your upcoming U.S. tour?
Yes we will. I don't know exactly when we'll have them, but the fine folks at Deathwish are working hard to make sure that we'll have them as early on in the tour as possible.
Rise And Fall is a staple of the European hardcore festival circuit. What do you guys prefer, festivals or club shows?
Festivals are more of a challenge with the huge stage, the occasional barrier, and the bigger crowds. It's a lot harder for me to really enjoy or to find satisfaction in those. However, when it's on, it's on, if you know what I'm saying. Club shows are what we do best and what we do most I guess. I love a small club, preferably packed, with a good stage and loud guitars.
Finally, what are you guys listening to these days? Any bands or records you think people should know about?
I can't speak for anyone but myself, but here's what I've been listening to lately: Raekwon Only Built For Cuban Lynx II, Trapped Under Ice, Secrets Of The World, The Hope Conspiracy, True Nihilist, Cloak/Dagger, Lost Art, and Dinosaur Jr., Farm. Check out Blind To Faith and The Reactionaries.