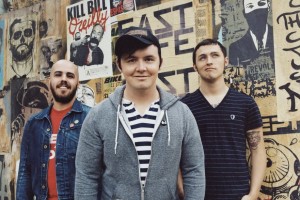 Several Punknews.org staff members had the privilege of attending The Fest 8 in Gainesville, FL this past weekend. We were able to capture a lot of great video and over the next several days, we'll be sharing the results of our exploits with all of you.
Tonight's video comes from Broadway Calls, who took a day off from their West Coast tour with Bayside and The Bouncing Souls to fly into Gainesville and play a Sunday matinee set at The Fest. The sizable crowd, hardly weary from two previous days of Festing, displayed their appreciation in the form of repeated stage dives.
In the video the band performs one song from each of their full-lengths: "Midnight Hour" from this year's Good Views, Bad News and "Van Rides and High Tides" from their 2007 self-titled full-length.