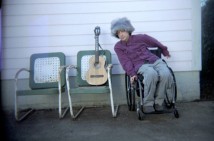 Many of you wrote in with the tragic news of the passing of singer-songwriter Vic Chesnutt. Chesnutt, 45, died on December 25 following a brief coma brought on by an overdose of muscle relaxers. Whether or not the overdose was intentional remains unclear. Chesnutt was involved in an auto accident at the age of 18 that left him paraplegic and confined to a wheelchair.
Chesnutt was a vital part of the music scene in Athens, GA, first earning the admiration of Michael Stipe of R.E.M. in the late 1980s and went on to collaborate with members of Fugazi, Godspeed You! Black Emperor, Silver Mt. Zion Orchestra, M.Ward, Throwing Muses and many others. Chesnutt was recently touring in support of his thirteenth studio album, At the Cut.
Our deepest condolences go out to Vic Chesnutt's family, friends and fans.